Just Say Yes! A Review for Daniel Bryan's Epic Story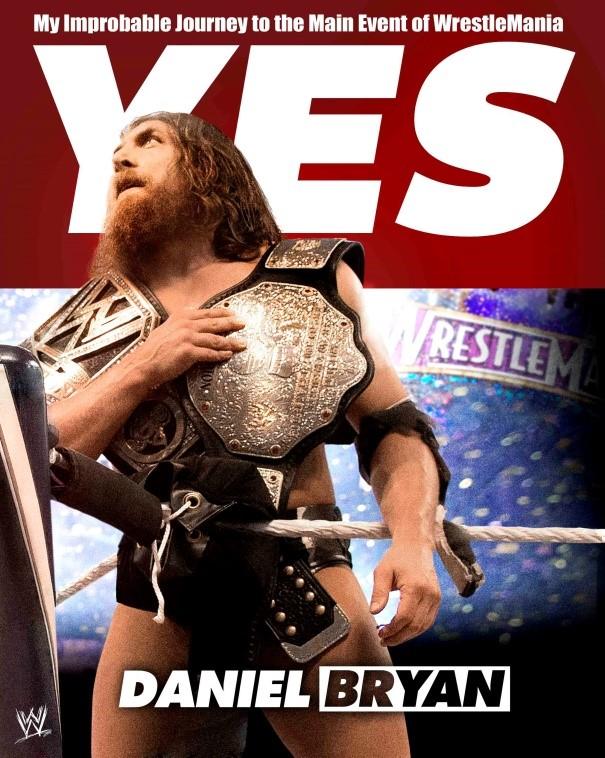 When you look at wrestlers, you usually see guys with gigantic muscles and freakish features. When you look at Daniel Bryan, you see a man who is 5'10" and has a scraggly beard. You would never know he's a professional wrestler.
Daniel Bryan always had obstacles to overcome. Whether it was becoming a pro wrestler or life in general, he never said "No." He always had the mentality of saying, "Yes, I can do this!" In his autobiography, he explains his journey to stardom and how hard it was. He believes you never just walk away from your dreams. So, the question for this review is: was it worth the money and time reading? As Daniel Bryan's catchphrase would say…"YES!"
Bryan Lloyd Danielson (real name) was born in a small town called Aberdeen in Washington State to a logger and a therapist on May 22, 1981. Due to his father being a logger, Bryan's lifestyle is more living in the woods than living in the big city. Bryan explains his time in school, stating that he participated in many sports including wrestling, football, and other physical activities; however, he wasn't good at any of them. The Danielson family really took a hit when the parents divorced when Danielson was young. Bryan admits in his book that his father was an alcoholic and it affected his behavior.
Despite this, Bryan always turned to professional wrestling to make him happy and he decided one day that becoming a professional wrestler was his destiny. He always found Dean Malenko impressive and wanted to join his wrestling school. Although he wanted to attend, he later found out it closed. Bryan then searched the yellow books (remember them?) and found the Texas Wrestling Academy headed by famous professional wrestlers Shawn Michaels and Rudy Gonzales. He contacted them and was allowed to join. Even though he struggled financially, Daniel was luckily able to work around the clock to afford going to the school. The day after he graduated from high school in June 1999, Danielson moved from Washington and headed to Texas to join the school.
When Bryan told his friends, they couldn't believe he actually was pursuing this. It's a hard profession to succeed and Bryan knew that going into the business. Yet, he decided to travel throughout the country to take on one of the world's toughest jobs: a Professional Wrestler. Bryan had many horrible nights of sleep, especially sleeping in his car. Bryan couldn't afford to sleep in a motel each night. He had to tough it out with what he had at the time. Bryan finally arrived at the school, but he didn't have his first match at the wrestling school until the following December. Bryan describes that many guys couldn't hang and some guys just left because of how physically exhausting it was on them. He eventually caught the eye of Shawn Michaels and Rudy Gonzales. His trainers contacted the WWF (WWE's name before changing it in 2002) to have him and three other rookies have a tryout. Bryan had a tryout in February 2000 in a tag team match and admits he suffered his first concussion after messing up a move.
Disregarding the concussion issue, the match went well and he was signed to WWF. In their developmental system, he was trained by William Regal. Regal was known as a submission expert and had been wrestling since the age of 15. Bryan cites Regal, Michaels, Dean Malenko and Chris Benoit as guys he admired and used to model his wrestling style. Bryan's persona became "the American Dragon". He wrestled under a mask and wore red, white and blue pants. In June 2001, when WWF discounted his partnership with the current promotion, Bryan was left in a dark hole.
Bryan didn't wrestle in the promotion until he was signed in 2009. The WWE saw his amazing matches throughout the world in the early-mid 2000s and signed him to a contract. Bryan was a big thing in Japan, England, Germany and elsewhere when he competed in "Ring of Honor" and other promotions. He competed in technical and high energy matches that went on for more than an hour! Even before he was in the WWE, Bryan was considered the best pound by pound wrestler in the world.
Bryan tells that he actually met the chairman of the whole company, Vince McMahon, in June 2008. McMahon called him due to high praise by his trainers. Bryan admits that his meeting with McMahon was awkward and he didn't feel like he impressed McMahon that well. McMahon and others agreed that Danielson deserved a contract and was going to wrestle under the name Daniel Bryan.
What Bryan eventually found out was that he was competing in the first season of NXT, which was a reality based show which had rookies like Bryan try to impress the audience and their pros. Bryan's pro was "The Miz" and many people on the internet complained because Bryan had a lot more experience than "The Miz". Bryan was eliminated and then returned as a part of a group of rookies, he got fired for not following their PG rules after their debut attack on John Cena and others. Bryan returned at the August extravaganza, SummerSlam, in the summer of 2010. Flash forward a couple of years later and Bryan has already become a wrestling sensation. Read the book to know why!