NFL Films Producer Visits Cherry Hill West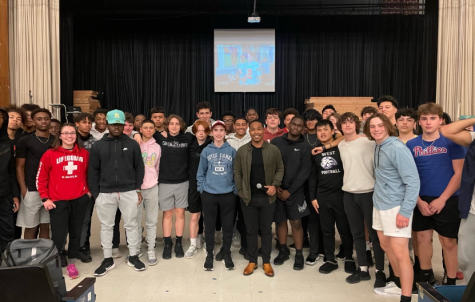 Pictured above: The Cherry Hill West football team and broadcasting program with Courtland Bragg (picture from Dr. Damon)
The Cherry Hill High School West's football team, along with their broadcasting program, were visited by Courtland Bragg, an award-winning producer for NFL Films, on April 8. Bragg began his presentation by showing us a video he helped curate, entitled "2021 Season in Six Minutes", which showcased the greatest moments of the most recent NFL season. Bragg asked the audience if they felt any emotion at all during the video. The audience nodded their heads, and some students even raised their hands to say they felt chills or got goosebumps. The video shown, as the speaker explained, would be shown to owners in meetings for the NFL. Bragg then went forward to share his passion for storytelling and the emotion that it can cause.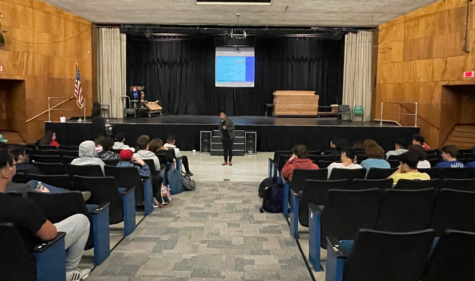 Pictured above: Bragg presenting to Cherry Hill West (picture from Dr. Damon)
Courtland Bragg is a 3-time Emmy award winner, for producing and helping film the NFL reality show, Hard Knocks. Hard Knocks shows the lives of players and coaches within a certain NFL organization, which is a new team selected every year, during training camp. The show tends to focus on undrafted or practice squad players attempting to make a name within the team.
Bragg shared the story of his high school career playing football but was unable to get a Division 1 scholarship in college football due to his height. He instead went to West Chester University to play football and study communications. After graduating, he was denied by many different jobs and decided to make his way as a substitute teacher. He worked hard on his broadcasting career independently, before he was noticed by NFL Films and was hired there promptly. In just a year, he went from a low-paid substitute teacher to an award-winning producer.
Bragg, throughout his presentation, told the audience about his encounters with various players and coaches, significantly with the Indianapolis Colts head coach Frank Reich. Reich and Bragg seemed to grow a great friendship through the filming of the 2021 edition of Hard Knocks, which covered the Colts. He'd also tell of his experience of one of his first major interviews being legendary Miami Dolphins quarterback Dan Marino. He'd express his interactions with NFL players like Jonathon Taylor and Micah Parsons.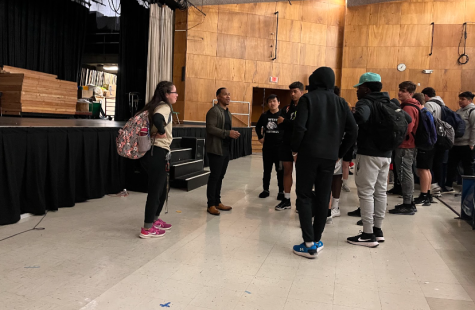 Pictured above: Bragg speaking one-on-one to West students (picture from Calvin Lymper).
Bragg wrapped his presentation up with the idea to keep pushing and outwork your competition, no matter if one may think they have little talent. He seeks to inspire those to try to story-tell because it is extremely effective and can bring you to great things in life.
You can view "2021 Season in Six Minutes" at the link here.