The Second Chance that COVID is Giving NBA Players
Not every dedicated player will become a starter in the NBA. There are players who work hard from day one. They get their big moment in college before being disappointed by not being selected in any of the 60 picks in each year's NBA Draft. Most players selected with picks 31-60 in the Draft, also known as the second round, tend to not get too much playing time in the league, and are usually assigned to the NBA's G-League, where they can truly develop their basketball skills out of college. As for the players who go undrafted, they usually sign contracts with the G-League, for the same reason as second-round picks do. 
The NBA's G-League is a minor basketball league that young players are signed to in order to develop their skills in the game of basketball in order to be signed to an NBA contract. The G-League has been around since 2001, back when it was originally the Development League (D-League), and has seen many great young talents. Players like Pascal Siakam, Danny Green, Shaun Livingston, Gerald Green, and Hassan Whiteside are all examples of extremely great players who began their careers and gained NBA roster spots from their play in the G-League. The league is extremely underrated in its role of producing and helping give young players more NBA experience. The G-League has been on a slow uphill rise in popularity as a result of the two-way contract being introduced in 2017, which gives NBA teams the chance to sign two young players to extra roster spots, where they will be kept on hold playing for the NBA team's G-League affiliate until they can be called up to play in actual NBA games.
With the world being plagued by COVID-19 since March 2020, NBA players have to be very cautious. Nowadays, it seems like you can't go one day without an NBA player having to sit out a few games because they are placed on health and safety protocols, which are if a player was in contact with someone who was exposed to COVID-19 or the player themself was exposed. It's something that definitely has annoyed NBA fans. They already hate the idea of players being injured in any given game and now there's twice a chance of players having to sit out due to the NBA's protocols and the quick-spreading virus. It's even worse when entire teams have an outbreak of the virus, like the Chicago Bulls and Philadelphia 76ers, causing most of the players to have to sit out, so the teams are undermanned for their games. 
Despite star players having to be sidelined due to the virus or being exposed to it, NBA teams have been able to find a grand solution: 10-day contracts. These 10-day contracts are contracts where free agent players sign onto NBA rosters for 10 days, which is usually around 3 games. Players who are looking to get their first chance in the NBA are given the opportunity, which means the players in the G-League. A huge example of these frequent G-League signings was when the Portland Trail Blazers called up three G-League players, Brandon Williams, Jarron Cumberland, and Cameron McGriff, all previously undrafted players, on December 26, 2021. Already, that's three players who were not guaranteed of even playing a single NBA minute, now signed to NBA rosters. Between December 25 and 28th, there were 6 G-League signings by the Atlanta Hawks,with all of those players being either second-round picks or undrafted. Since January 1st, there have been 26 10-day contracts signed as of January 13. That's 23 players getting their chance at NBA talent. 
It's also made clear that these 10-day contracts aren't the last stop for these players trying to begin their NBA career. A large number of players in the wake of the pandemic are getting their 10-days upgraded into two-way contracts. Charlie Brown Jr., Theo Pinson, and Myles Powell were all popular G-League players who had been given 10-day contracts with their respective teams. Now they thrive in the NBA on two-way contracts, giving them the opportunity to get NBA minutes and impress their coaches.
These "second-chance" contracts aren't exclusive to young players looking for a start in the league, however. With the number of players out due to the NBA's protocols increasing all the time, notable veterans, or players who have played a lot of seasons in the league, are getting their second chance in the league after being in free agency for long periods of time. Lance Stephenson, a shooting guard most famous for his time in Indiana in the early 2010s, was out of the league as a free agent since 2019. On December 22, 2021, he was signed to a 10-day contract with the Atlanta Hawks, where he would play 6 games off the bench. He would, again, be signed to a 10-day contract, this time with his former team: the Indiana Pacers. In a January 5th matchup against the Brooklyn Nets, in his third game with the Pacers, Stephenson dropped 30 points on the bench, with twenty of those points coming in the 1st quarter. He would sign another 10-day contract with the Pacers on January 11. 
Other veterans that are attempting to make a comeback in the league are Greg Monroe, signing with the Timberwolves, Isaiah Thomas, signing with the Lakers and Mavericks and DeMarcus Cousins, who signed a normal contract with the Bucks before being waived weeks later. 
The significant uprise of comebacks in the NBA is becoming intriguing to retired players. Darren Colison, who previously retired in late June 2019, also signed a 10-day contract with the Los Angeles Lakers, playing 3 games. Another prominent example is Joe Johnson, who was known for his 3-point shooting which rewarded him the nickname "Big Shot Joe" and was a 7-time NBA all-star. Johnson made his return to the NBA in a single game during his 10-day contract with the Boston Celtics, which he signed on December 22.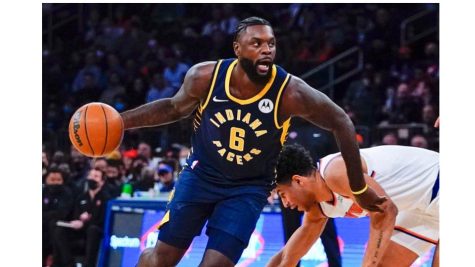 Pictured above: Lance Stephenson, picture from Forbes.com
While it is true that COVID-19 ruined a lot of the NBA's operations since the 2019-20 season, it has also made the NBA more exciting to watch. To many casual fans, the idea of star players being out frequently is a turn-off, but to those watching closely, you realize that it means these young players and older veterans get their chance at being in the sports spotlight. Every NBA game is now more competitive, and the league should be excited when they look at the bigger picture with how many potential young stars can be headliners for them.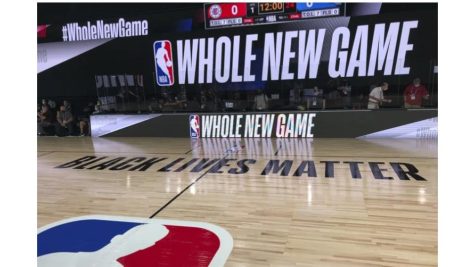 Sources: