A Season in Review: West Girls' Soccer
The West Girls' Soccer team, although plagued with injuries to key players such as juniors Reilly McGlinn and Maesie Baker, had a good season this year. They finished ninth overall in the Olympic Conference and made it to the Group 3 playoffs as the twelfth seed. This year's captains were Ava Leporati, Ava Hawk, Jill Shapiro, and Kate Bauerle. They helped to lead the girls to big wins such as the 1-0 victories over both Paul VI and Seneca. 
The girls were led in stats by sophomore Kennedy Erdman, who had 7 goals and 6 assists, followed by junior captain Ava Hawk. She also tallied a total of 7 goals and had 3 assists. Other contributors were Carolyn Kirk and Rena Kotsedakis who both had 1 goal and 3 assists along with freshman Julia Lewis and junior Jill Shapiro who both had 2 goals.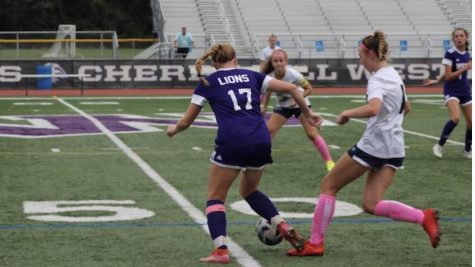 Ava Hawk with the Ball against Collingswood
There were many young and exciting players who emerged this year. Sophomore goalkeeper Abby Leporati had an impressive 150 saves over the course of the season and helped lead the defense. Freshmen Julie and Danielle Short also emerged as key players of the team, helping to hold down the defense and midfield. 
 As the twelfth seed, the girls were matched against Mainland Regional who were seeded fifth. They unfortunately fell in a 1 to 0 defeat which ended the season.