Girls Soccer Headed to Championships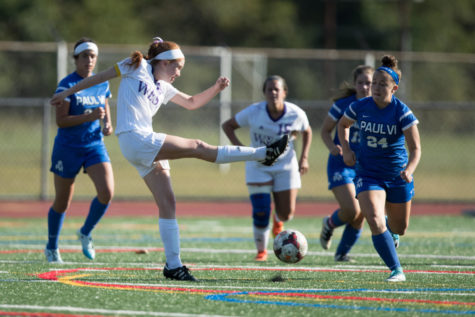 Girl's fall sports have had some electrifying performances in 2017.
The West Girls Soccer team is gearing up for their South Jersey group III championship match at Ocean City high school on Thursday, November 9th at 2 pm. The girls soccer team has not reached this far in the state playoffs in some time, and are doing it this year as a major underdog.
At the opening of the state playoffs, the Lions were ranked as the number 10 seed, and were slotted to face 2 seeded Mainland in the first round. West defeated Mainland 2-1, as junior Samantha Santos scored the game winning goal in double overtime. In the Lions defeat of Mainland, freshman goalie Michaela Auguadro also notched an impressive sixteen saves.
The girls then traveled to three seeded Delsea, whom they defeated 1-0 riding on the lone second half goal scored by senior Gabby Angelucci. After tearing through the South Jersey group three bracket, the ten seeded Lions are now faced with the opportunity to defeated one seeded Ocean City.
Should they defeat Ocean City, West will have a shot at the state title.