Hurricane Fiona, a Category 3 Storm, Caused Destruction and Chaos in Puerto Rico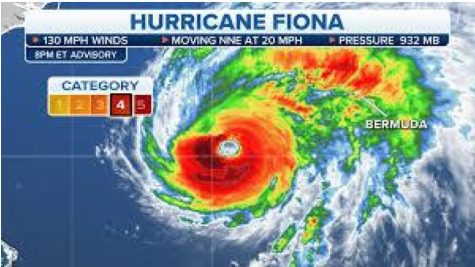 Image from Fox 11 Los Angeles 
Puerto Rico
Hurricane Fiona, a Category 3 storm, wreaked havoc in Puerto Rico on Monday, September 19th. The hurricane caused the entire island of Puerto Rico to lose power because of harsh and extreme weather conditions. 
Fiona was expected to strengthen to Category 4. This storm was known for its catastrophic flooding, destructive winds, mudslides, and storm surges. It arrived in Puerto Rico and left in its wake a power outage, a shortage of water for Puerto Ricans, and many dead. While Hurricane Fiona moved onto the Dominican Republic, Puerto Ricans were left to pick up the pieces while still fighting floods. 
According to BBC News, ¨Officials said a 58-year old man died after being swept away by a river in the town of Comerio, while another in his 30s had died in a generator fire." Hurricane Fiona caused many devastations throughout the island. Authorities reported that at least 16 people had been killed in Puerto Rico as a result of Fiona. Though as help arrived in the worst-hit areas, the number of fatalities rose. 
In reaction to Hurricane Fiona, the Biden administration has taken action by mandating the Federal Emergency Management Agency (FEMA) to provide federal assistance to the people of Puerto Rico. Worldwide organizations and groups have been assisting Puerto Rico in the wake of Hurricane Fiona. Especially the Hispanic Federation, a confederation of groups rebuilding Puerto Rico. In an effort to meet the people's urgent needs, the federation addresses basic, economical, and agricultural necessities. Following this category 4 storm, the Hispanic Federation has been assisting with community-based programs to rebuild houses, hospitals, farms, and more. 
After the devastation of it all, Puerto Rico struggled without electricity and a water supply, but the island is slowly rebuilding and globally-wide organizations are sending help their way.