We Will Rock You Interview
In March 2020, the world was put on pause due to the COVID-19 pandemic. Only weeks before the opening night of We Will Rock You, the Cherry Hill West Musical Theatre Department was forced to forego their Spring musical and hope for a chance to reconvene again soon. Fortunately, West thespians found a new way to share their work with the world: virtual performance. Premiering on February 26th 2021, We Will Rock You streamed to the homes of not only Cherry Hill residents but viewers everywhere. The Cherry Hill West Theatre Department rose above the ashes of COVID-19 and delivered a form of entertainment every Broadway Buff has been craving for the past year. In the following interview, the director and leads of We Will Rock You expound upon their experience participating in a virtual musical and shed light on the technological aspects of performing online.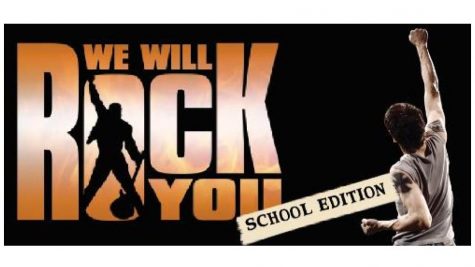 AP: What was it like performing a musical that was partially pre-recorded and partially live?
Mrs. Messias: We really owe it all to Mr. Cooper, and Kevin, and Nathan. It took them hours and hours and hours of editing. I would joke with the cast, "You're going to give the man a stroke and he's too young." The amount of time and money he spent on this, even buying the equipment too. It was just daunting. Our technical director Chris Miller also had to put the backgrounds in after they recorded their songs with the green screen and we had to make sure all the actors had the backgrounds that they could change in between scenes. So that was very complicated as well.
Brianna Johnson: One huge part of this pandemic is all the things that get taken away from you in an instant. For theater there's so many rituals and little things that happen that are so important and it was definitely sad. But, it was great to do something. It was great to have a show and to sing and to act and to see my peers and that was the nice part. That it was something. I really appreciate Mrs. Messias and Mr. Cooper and everyone who was able to contribute and make that a reality for us, and I am so thankful for that
Jonathan Smith: It was obviously different. It was pretty sad because most of us are seniors and part of our junior year and most of our senior year had to be online. It was definitely a big step in a different direction that at first, I don't think we were ready to go into. But in the end I think we ended up doing a pretty good job performing it.
Michael Sagedy: It was definitely a different experience than doing it in person obviously. But it was very limited in what we could do since we couldn't really interact with each other and we kind of had to do everything ourselves.
MA: What were the rehearsals like in comparison to a normal year?
Michael Sagedy: It was still some of the same stuff like learning your lines and running through the script, but it was also getting used to when we would have to turn on our camera, or unmute, or watching the livestream on our other screen to see when the next song is coming up. It was definitely a lot more involved than a normal rehearsal.
AP: Would you say that having to do this virtual musical made you more grateful for what you had in the past?
Mrs. Messias: I would say yeah even for us,  Mr. Cooper, Ms. McWilliams, Mrs. Roskoph, myself, we miss that you know? I made the decision to bring the leads into the building because originally everyone was going to be at home. So for us it felt a little more normal but I don't know how it felt for other cast members. I know one parent told me, "It was very strange to be sitting in my living room watching the show and knowing that upstairs, my son was performing in his bedroom." At least we had that kind of togetherness in the building, socially distant of course, but everyone else was at home. You know, there is nothing like live theater. It's a rush. It's a weird rush you can't explain.  It's not like film or T.V. at all. So I think that was the part of it that was missing.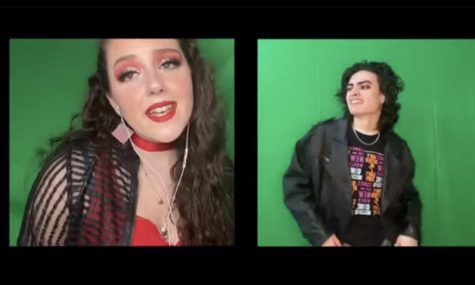 AP: How did you manage to get the timing right for choreography especially when you were performing live?
Mrs. Messias: That was all Brianna and it was fabulous. And that's something I learned looking back now and thinking, there's all these things we missed because we were rushing and trying to get it done and it could have been done better. But I have to say this cast really gave 100% into making this work and making it look good. 
Brianna Johnson: As soon as I heard that we were doing this online and recorded I thought Okaaayyy? We had done the virtual choirs before but there really wasn't any choreography we were just kind of expressively singing. And I asked Mrs. Messias, "So…um…. what're we going to do?" And she just said, "Just try and talk with each other and coordinate something. You guys always come through, you'll figure it out." So we had to do something to keep the audience engaged. I know if I had the obligation as a family member to watch this Zoom musical, I wouldn't want to be bored. The music obviously speaks for itself, but it's a musical, so we have to be acting somehow. I just wanted to add some cutesy things like when we look at each other, or hand movements just to keep it interesting to watch. I think it came out super well and I think Mike can agree that the final product came out great. And I just thought, wow we really did that.
AP: Were there any lessons you learned while playing your character?
Jacqueline Smith: Mrs. Messias really had to work hard with me on this character. It was really hard for me to portray my anger and snarkiness over Zoom. And Mrs. Messias kept saying to me, "Be meaner! You can be meaner!" So it was definitely a struggle for me, especially over Zoom. I couldn't be as expressive as I normally could on stage with my body language and movements.
Chris Reigel: For me, I definitely did not struggle as much playing my character because I think it was very easy for me to be loud and goofy. I don't think I act as extreme as Buddy in a normal situation you know? But after a year of not seeing anybody and not interacting with anyone, I could really let the loud and goofy show. And I think it's a lesson that comes with any show and acting generally. Acting in general allows me to let go of that nervousness and I feel like it's an intense version of public speaking, choir, and dance all wrapped into one, and it really comes up and punches you in the face. And it comes to a point where you realize people are going to see this and they're not going to think that I'm an idiot just because I am acting like one.
Michael Kangaju: I have definitely learned a lot from this musical as it was my very first musical. The only acting experience I have ever had was during Broadway Night. The only time I ever got to be another character was during this show. And it was really interesting because Galileo is this misunderstood kid who makes his own music, and I kind of resonated with that. I make my own music, so there's just some similarity I have with this guy, and it kind of just branched out into me wanting to break free to save myself like Galileo needed to save Rock 'N' Roll. Once we went into lockdown and we weren't really sure what would happen with the show, I went home and read the script more and really dug into the character. And when Mrs. Messias said it was time to get our scripts back out and that we're going online, I thought okay this is going to be something very interesting. I learned a lot from this role and really enjoyed it and I hope that the audience enjoyed it as well. I have yet to know what it feels like to be on stage, all the pressure from the audience, and to be there with everybody else, so for what I have right now it was great. 
AP: I know you're a dancer Christian, so was it a little bit weird not being able to express yourself in that way during the show?
Christian Santiago: Dancing is definitely one of my favorite things to do. I've never taken any classes for anything, but dance is something I discovered recently. I grew up singing and acting. When I was little I really wanted to be a superhero and I was like–how do I become a superhero? Through acting. I become a superhero through acting. I wanted to be up on the screen shooting lasers out of my hands. So that was where acting kind of got planted for me in my life. But dancing didn't come until I actually started theatre. It's something I really enjoy and really love and when I found out we were doing this online I just thought, so how are we going to do this? So we talked with the choreographer and nothing really ended up happening. So it was really difficult trying to figure out how do we embody the music? So I just tried to do as much upper body movement as I could. Like Brianna said, just trying to be as expressive as possible. I definitely had a lot of fun jumping around and doing my thing. So it was definitely something new and different to have to work around and figure out how to do differently.
Chris Reigel: I am definitely not a dancer. You know I shimmy and shuffle around the stage, but I am not a dancer. So that was perhaps one of the only things that initially excited me at the very onset of hearing that this was going to be virtual was knowing that I would not have to dance.
MA: What can we expect moving forward from West Theatre for the rest of the year?
Mrs. Messias: We are actually holding auditions soon for our spring play. We have a Google Classroom for the theatre department for anyone that is interested. The play is called Powerline: A Story of Me, Mario, and Your Mom by Don Zolidis, and it's actually written for Zoom. He's written a lot of the one act plays we have performed at West. That's going to happen April 16th, 17th, and 18th. I am also doing Lab Theatre and we will jump into that next week. The winter play will be on Zoom. We are planning to  film that like a movie. The plan for One Acts is to hopefully perform them outside.  Mr. Gorelick is having some stage crew days where they are going to talk about building a stage where we will hopefully get to perform. But of course none of this is set in stone, and these are all just a few ideas that we are coming up with. Hopefully by next year we will be back on stage. 
MA: Any final thoughts you would like to share to people who have seen the musical or maybe haven't seen the musical?
Michael Kangaju: I appreciate every single one of you that came out to see the show, everyone who performed, and all of you guys are amazing. 
Mrs. Messias: I have to say I am so proud of everyone. We actually sold a lot of tickets. The district did not expect us to really make a profit, and I'm sure we didn't. But every night I was shocked at the amount of people that bought tickets. But this cast was wonderful, it was a really great group. They really came through and stuck it out. The ones you saw were the ones who stuck it out and went through with it. And you know at first they were thinking, this is stupid, this isn't going to work–and I know that. I honestly didn't know what I was doing and what to expect. But this group was great and I'm really going to miss this group of seniors and having them on stage.