NHS Inductions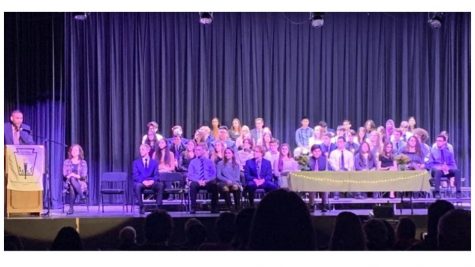 The National Honor Society Induction Ceremony took place on Tuesday, January 14th at Cherry Hill High School West. This was a lovely evening filled with recognition of the outstanding academic achievement of the students being inducted. Families and friends of the inductees gathered to witness the ceremony that resulted in the induction of 43 new members. 
The evening commenced with Men of Note singing a beautiful song selection and the National Anthem. Following this, the National Honor Society Adviser Mrs.Castellani welcomed all of the inductees and their families. After this, the officers began the process of induction into the Society. President of the National Honor Society, Calvin Aliferov, began with a speech addressing the inductees and commending their hard work. Then, Vice President Maria Mousa, Secretary Gillian Sweeney, Treasurer Matthew Anderson, and Executive Board Member Jack Marble each explained the importance of the four pillars that embody the Society. These four pillars are Scholarship, Leadership, Service, and Character, and truly constitute the attributes that each of the inductees possess. After each pillar was explained, a candle was lit to portray these four core values of the Society. 
After the candle lighting ceremony, Executive Board Members Samarth Patel and Kerrigan Donnelly called up each inductee individually to sign the registry and receive their certificate. Once all names were called, inductees prepared to recite the induction pledge to be admitted into the Society. In unison, the pledge took place and inductees were officially members. Dr.Morton, Principal of Cherry Hill High School West, gave congratulations to all of the new members and explained the significance of their academic achievement. Dr.Morton also encouraged students to use this induction ceremony as, not the end, but the beginning of their journey through academic and future success. 
To end the induction ceremony, inductees and officers sang the Alma Mater. This was heartwarming because West alums attending the event joined in as well. Following this, inductees and their families celebrated outside of the theatre and enjoyed delicious sweets served by The Advanced Cooking Class. Congratulations to all of the newest inductees into the National Honor Society for their hard work and continued determination.