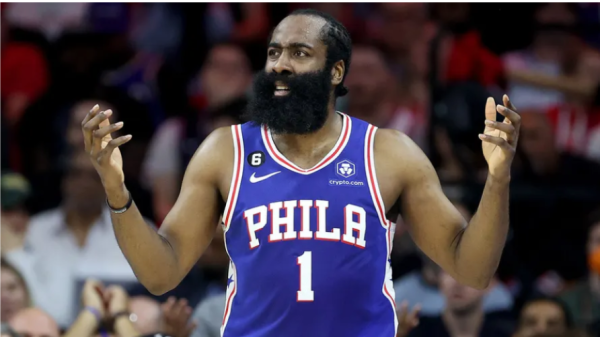 Pictured above: James Harden (picture from Fox News)
It began with James Harden's trade request away from the Philadelphia 76ers on June 29. This was after he opted in to a $35.6 million player option, instead of declining the option and becoming an unrestricted free agent. The issue began there, when Harden decided he wanted to cooperate with the 76ers to find a good trade. Harden is 33 now, and beginning to take a decline in his high-scoring talent, despite being the assist leader in the NBA last season. Harden put his career in the hands of Daryl Morey, the 76ers' president of basketball operations and general manager. Despite a long-time collaboration with Morey, as Morey formerly was the general manager of the Houston Rockets during Harden's MVP tenure there, Harden suddenly claims that his relationship with the manager is irreparable. 
In August, during a publicity tour in China, Harden stated that Morey was a "liar" and that he did not want to be a part of any organization Morey was involved in. Harden was subsequently fined $100,000 for these claims, according to NBC Sports Philadelphia. All of this is due to the fact that the 76ers could not quickly find a suitable trade with the Los Angeles Clippers, the preferred destination for James Harden. Harden opted in to allow the 76ers to be able to gain compensation for his departure, yet, he's quick to spew insults at the organization just because the Clippers don't have the highest interest in him. It's impossible to blame the 76ers if the Clippers do not give them a proper offer that can fairly compensate for James Harden, someone who is currently diminishing his trade value due to his recent antics.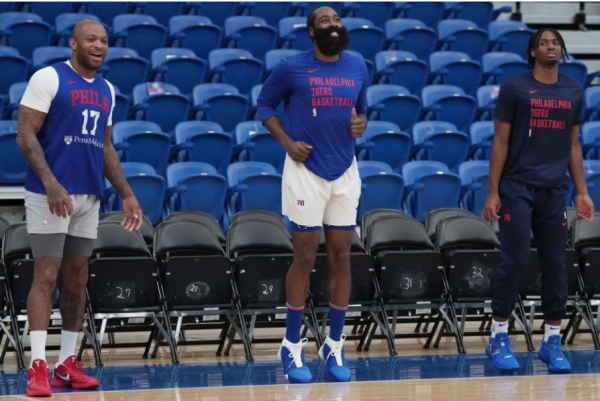 Pictured above: PJ Tucker (left), James Harden (center) and Tyrese Maxey (right) (picture from Liberty Ballers)
A saga similar to that of infamous Ben Simmons a few years ago, where Simmons opted to sit out the entire season claiming injury until he was traded, Harden might take a similar road. He rejoined the 76ers team on the second day of training camp and was quick to explain his grievances to the media. 
"It's really out of my control," Harden stated, as reported by NBC Sports Philadelphia. "It's something that I didn't want to happen, being in this position, but I've got to make a decision for my family. I understand this is a business. It's just as simple as that. I come in here today, work my butt off and do the things necessary as a professional — as I've been doing for 15 years."
Harden also stated that he intended to retire with the 76ers, but his deteriorating relationship with Morey messed up those plans. He went on to create a metaphor for the state of his and Morey's relationship, comparing it to losing trust in your partner in a marriage. "It's not even specific to this situation," Harden told the press. "This is life. When you lose trust in someone, it's like a marriage." 
Harden did not rejoin the 76ers for their final preseason game against the Atlanta Hawks on October 20.Harden missing his second practice in a row the day before, with the team stating it was for "personal reasons."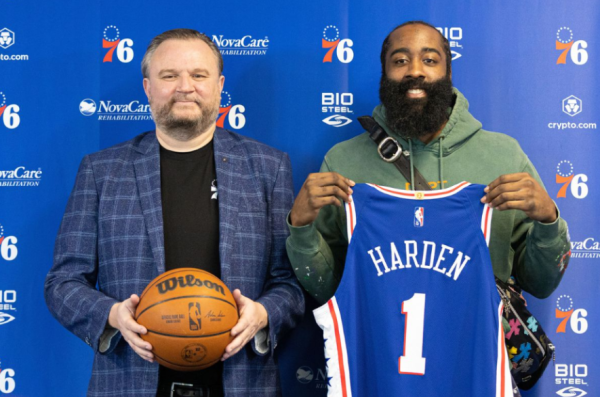 Pictured above: Daryl Morey and James Harden (picture from Liberty Ballers)
"It's been ongoing for a long time now — even summer and fall workouts, training camp, et cetera," 76ers coach Nick Nurse stated regarding Harden's recent behavior, as reported by NBC Sports Philadelphia. "So again, I don't want to keep saying the same thing every day, but I've got a job to do with the guys that are here and we just go to work. If that changes, we'll adjust. That's what we do."
Poor Nick Nurse, a talented championship-winning coach who was hired after the 76ers lost in Game 7 of the Eastern Conference Semifinals against the Boston Celtics, has been placed into an unfair situation with his star player actively spreading conflict within the organization. While it is inconvenient for Harden that his trade request has not been granted since the Clippers have been "unserious" in trade talks, no blame can be placed on Morey. The 76ers are looking for a fine haul of draft picks plus guard Terence Mann, in which they would look to flip this package for an All-Star guard from another team. Trusted NBA insider Adrian Wojnarowski tweeted on October 18 that a deal between the 76ers and Clippers still had a "sizeable gap" and "little movement" has been achieved in the months that the request has been lingering. Unless the 76ers want to settle for a small package from the Clippers, a James Harden trade to LA before the regular season begins does not seem imminent or possible.
A James Harden trade will almost surely come within the first couple months of the regular season, as Harden might take the chance to sit out until he is traded. If the Clippers do not decide to add Terence Mann into trade talks, the 76ers should immediately move on to discuss with other teams. There were rumors of Harden wanting to return to the Rockets, and the Chicago Bulls could make a move for Harden if they elect to trade away Zach Lavine. The New York Knicks could emerge as suitors if they make players like RJ Barrett, Josh Hart, or Quentin Grimes. There are plenty of possibilities, but Harden's extensive trade request history and his claims against Philadelphia's front office might make him unappealing to most teams.
Author's Note: At the time of publishing, a trade of James Harden to the Los Angeles Clippers had gone through. The details of the trade include the Philadelphia 76ers giving away Harden, veteran forward PJ Tucker, and rookie forward Filip Petrusev to the Clippers for former 76er Robert Covington and veterans Nic Batum, Marcus Morris, and KJ Martin. The 76ers also received a first round pick from the Clippers and another from the Oklahoma City Thunder, and two second round picks. 
On paper, the haul the Clippers gifted to the 76ers might not seem too hefty or star-loaded. The 76ers did not have any future draft capital before the trade, having no first-round pick in the 2023 NBA Draft. Tyrese Maxey is blossoming in the absence of Harden as the star guard alongside Joel Embiid, and according to CBS Sports, "Philadelphia is 41-20 with De'Anthony Melton in the starting lineup since acquiring him last offseason, and he is now presumably a full-time starter." 
The 76ers acquired a bunch of older, expiring contracts for a presumed overpaid player in Harden, allowing the 76ers much more cap space in the upcoming offseason to sign a max player and sign plenty of solid supporting roles. The 76ers can also now use their new draft capital and depth pieces to flip for a trade for potential stars to high-rated role players. 
The 76ers should continue looking to flip assets for players like Zach Lavine, Donovan Mitchell, or even OG Anunoby from the Toronto Raptors. The 76ers will be in fine shape, already figuring out their playing style without Harden, and recently signed forward Kelly Oubre Jr. will do enough to fill the gap that PJ Tucker will create.