Cherry Hill East Tops West In a Cross-Town Rivalry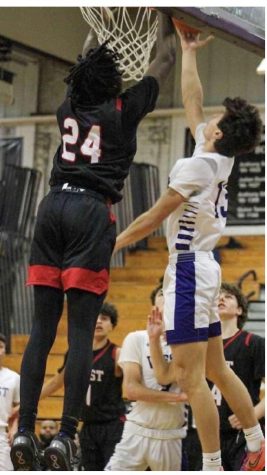 West's Peter Greffeo (13) goes in for a layup as 
East's Josh Fadahunsi (24) attempts to block the shot.  
Photo courtesy of Mia Rider (@miatakesflicks)
On Monday, February 14th, 2023, the Cherry Hill West boys basketball team hosted East in a classic town rivalry. The two teams went head to head earlier in the season during the Virginia B. Whitaker Classic on December 30th, 2022, ending in an East win. Going into Monday, West was eager to win, craving momentum to lead them to success in the playoffs. 
East is led by senior Ian Gross who has a total of 525 points this season. He was a big threat on offense against the Lions. However, West is led by both sophomore Quinn Gibson (365 points) and junior Ben Manns (392 points). All three players pose as huge threats in the game on the 14th.
West honored their four seniors, Peter Graffeo, Connor Hawley, Edon Atiya, and Gabe Wiggins, prior to the start of the game. This brought many family members and friends from around the community to the game. The crowd was electric throughout the game, with both student sections being very loud and supportive. This only added to the excitement and intensity of the game.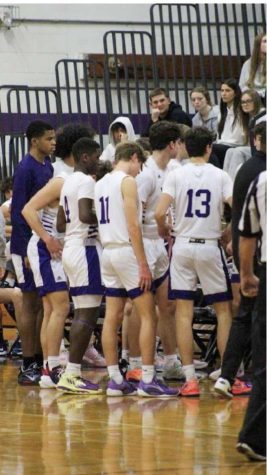 Throughout the game, both teams remained extremely competitive, with neither team ever trailing by more than 15 points. Both teams fought until the very last minute, however, East was able to pull off an impressive win against a very talented West team. The Cougars won 66-56 with the help of senior Ian Gross who scored 29 points. West's Quinn Gibson and Ben Manns worked hard throughout the game scoring 19 and 14 points respectively, but ultimately failed. East took home the win.
West meets in a huddle during a time-out.
Photo courtesy of Mia Rider