LeBron James becomes NBA's all-time leading scorer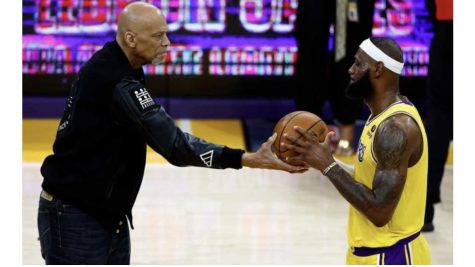 Pictured above: NBA legend Kareem Abdul-Jabbar, the former all-time points leader, ceremoniously handing a basketball off to LeBron James (picture from NPR)
On February 18, 2002, nearly 21 years ago, Sports Illustrated featured high school basketball player LeBron James on the cover of their magazine. James, a 17-year-old junior from Akron, Ohio, was the biggest name in basketball at the time, despite not yet playing at the professional level. At the time of his cover appearance, James averaged a fantastic 29.6 points and 8.3 rebounds for his school St. Vincent-St. Mary. The previous year, James became the first sophomore to win the Ohio Mr. Basketball award, and also led his school to a Division III state title for the second year in a row. LeBron James quickly became the most hyped NBA prospect, even though by NBA draft eligibility rules he was still a season away from entering the draft. With all of this considered, what did Sports Illustrated consider James?
Three words: The Chosen One.
Picture from Sports Illustrated (February 18, 2002)
James was drafted with the first overall pick by the Cleveland Cavaliers in the 2003 NBA Draft, after skipping the college route. James finally had his chance to prove his hype wasn't a waste, and he would begin strong, winning the 2003-04 Rookie of the Year award along with averaging 20.9 points. He would become an All-Star the following season, a feat he has been honored for countless seasons to come. James led the Cavaliers to the 2007 NBA Finals but lost the series in four games. He went on to win the Most Valuable Player award in 2009 and 2010.
James' legacy quickly fell into question after the infamous televised special "The Decision", where he stated he would join the Miami Heat in free agency alongside star forward Chris Bosh and guard Dwyane Wade. He became the "villain" of the NBA, widely hated by many players and fans for leaving his hometown team to join a so-called "superteam". In a four-season tenure with the Heat, James won two Most Valuable Players in 2012 and 2013 and went to the NBA Finals every season. In four Finals appearances, he led the Heat to two championships. 
He returned to the Cavaliers for the 2014-15 season, and similarly led the Cavaliers to four Finals appearances, winning one in 2016 after trailing 3-1 against the Golden State Warriors in the series. This would be seen as James' greatest achievement to this point, having returned to the team that drafted him in his home state to deliver their first franchise championship. Along with this, James had played in the NBA Finals for eight years in a row from his four-year period with the Heat to his next four years with the Cavaliers, winning three of those eight appearances.
In a league-shifting decision, James joined the Los Angeles Lakers on a four-year contract in the summer of 2018. James ledtheLakers to the 2020 NBA Finals following the move to the NBA's Orlando "bubble", after the breakout of COVID-19. James won the Finals 4-2 against his former team, the Miami Heat. 
Despite four championships and MVP awards under James' belt, he strived for more. He looked to take down NBA legend Kareem Abdul-Jabbar's record of most career points with 38,387, a record that had stood since overtaking Wilt Chamberlain in the points leaderboard on April 5, 1984.  Going into the game against the Oklahoma City Thunder on February 7, 2023, the 20-season veteran was only 36 points away from finally sitting atop the leaderboard. A 38-year record was finally to be passed.
LeBron James began his night with 20 points at halftime, trailing 66-76. A packed house watched, within Los Angeles' Crypto.com Arena, as LeBron James scored 16 points in the 3rd quarter. Within these 16 points, LeBron James would officially pass Abdul-Jabbar on the career leaderboard with a fadeaway mid-range shot with 10.9 seconds left in the 3rd quarter. Immediately, James ran to the other end of the court with his arms raised. ESPN wrote, "Photographers quickly circled James on the court, as chants of "MVP" rained down from the crowd and highlights of his storied 20-year career played on the videoboard. The game was stopped for about 10 minutes while James hugged his family, including his wife, mother and three children, and participated in a brief ceremony with NBA commissioner Adam Silver and Abdul-Jabbar, who watched the game from a baseline seat near the Lakers bench."
Pictured above: The record-breaking fadeaway mid-range shot (picture from The New York Post)
LeBron also gave a small speech to the fans in the building, stating, "I just want to say thank you to the Laker faithful. You guys are one of a kind… Everybody that's ever been a part of this run with me the last … 20-plus years, I just want to say I thank you so much, because I wouldn't be me without y'all."
Unfortunately for James, the Lakers ended up losing the close match to the Thunder 130-133. The Lakers fell, in their record, to 25-30 and now sit 13th in the Western Conference standings. With the trade deadline closing in, many NBA fans are prepared to see whether or not the Lakers will make big trades before February 9's trade deadline at 3 PM EST.
The packed Crypto.com Arena featured many celebrities and former NBA players in the crowd. "Inside the building, celebrities gathered to witness history: Denzel Washington, Jay-Z, Bad Bunny, LL Cool J, Usher, Andy Garcia and many others were in attendance," ESPN reports. "Basketball greats also turned out, including Lakers heroes Magic Johnson, James Worthy and Bob McAdoo, along with Dwyane Wade, who teamed with James for two NBA championships while with the Miami Heat." The entire NBA world watched James pull off his incredible feat.
James' family also sat in attendance, with courtside seats. Bronny, LeBron's son and current 4-star recruit player for Sierra Canyon, captured his angle of the record-breaking shot with a video he posted to his Snapchat story.
James' record-breaking moment was only his 1,410th game in the NBA, compared to former record holder Kareem Abdul-Jabbar's 1,560 games. Famously, Abdul-Jabbar only made one three-point shot in his entire career, while James sits 9th on the all-time three-point shots made list. 
This isn't the only leaderboard James sits high on. ESPN states that James is also "ranking No. 4 in career assists, No. 9 in steals, No. 32 in rebounds and No. 91 in blocks — all a testament to James' dominance and longevity, having logged the third-most minutes in league history."James has no plan of slowing down either, as he signed a two-year contract extension at the beginning of the 2022-23 season, which keeps him a Laker until the 2024-25 season. He also expressed plans earlier this year of playing with his son Bronny, who will first be eligible for the NBA Draft in 2024. 
Throughout his career, James' scoring has evolved with the game. A chart created by CNN shows James' shot attempts in his rookie season compared to the 2021-22 season. Just as the entire NBA world began shifting into primarily three-point shooting, so did James.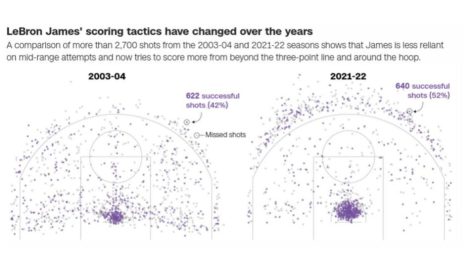 James, an all-around scorer who can seemingly play any position, has solidified his place in the "GOAT" conversation with this record. While many still argue Michael Jordan is the GOAT, James' resume is incredibly overwhelming and he definitely has great leverage with this record-breaking feat. Through it all, James has easily solidified himself as the "Chosen One" of the NBA, a title he's been blessed with since his junior year of high school.