Legendary Defensive End JJ Watt retires from the NFL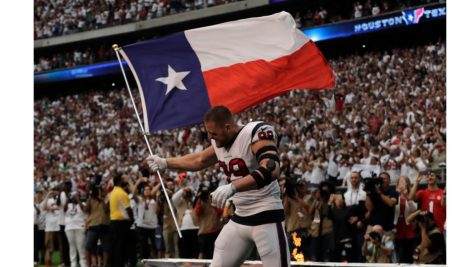 Picture from Entertainment Tonight
Following an overtime loss at home against the Tampa Bay Buccaneers on Christmas Day, Arizona Cardinals defensive end JJ Watt posted on Twitter a picture of himself, his wife, and his son Koa on the sidelines of State Farm Stadium. In the caption, Watt wrote, "Koa's first ever NFL game. My last ever NFL home game. My heart is filled with nothing but love and gratitude. It's been an absolute honor and a pleasure." Watt, now a father, having played 12 seasons, looked to make his final season a great one.
Through 16 games this season, Watt had 1 forced fumble, 39 combined tackles, and 12.5 sacks. Per Pro Football Journal, Watt's 12.5 sacks set the record for the most single-season sack total by a defensive end in their final season. The record was previously 9.5 sacks held by Jack Youngblood in the 1984 season.
Picture from CNN
Watt was drafted 11th overall in the first round of the 2011 NFL Draft by the Houston Texans. In his 12-season career playing with the Texans and Cardinals, Watt is a 6-time Pro Bowler and  5-time All-Pro. He has won 3 Defensive Player of the Year awards, in 2012, 2014, and 2015 respectively.  Watt also placed 2nd in the NFL's MVP voting in the 2014 season. 
Watt ranks 4th in sacks since being drafted in 2011, according to ESPN, with Chandler Jones, Von Miller, and Cameron Jordan being the only players to beat him out. However, Watt is the franchise leader in sacks, with 101, for the Houston Texans. Watt is regarded as one of the greatest defensive ends of all time, and many assume his legacy would be even stronger if it weren't for frequent injuries following his string of All-Pro seasons.
Outside of football–where he is a feared player on the field–Watt is notable for his participation in charity work. Watt founded the Justin J. Watt Foundation in 2010, which provides after-school opportunities for children, helping them safely get involved in athletics. Watt was nominated for the NFL's Salute to Service award in 2014, which honors a player, coach, or owner that works in supporting the United States' servicemen and women. 
As Hurricane Harvey ravaged Houston, TX, in the late summer of 2017, Watt raised around $37 million to help in recovery and relief efforts for the Houston area. For this, Watt received the 2017 Walter Payton Man of the Year award, which honors a player's commitment to community efforts and charity.