Former NFL Player Garry Cobb Talks Faith at Cherry Hill West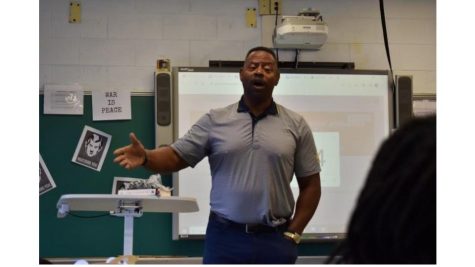 Picture from Nathaniel Camacho
On December 13, 2022, former NFL player Garry Cobb visited the Fellowship of Christian Athletes club at Cherry Hill West. Garry Cobb played in the NFL for the Detroit Lions, Dallas Cowboys, and Philadelphia Eagles in the 1980s. Currently, Cobb works as an analyst for the Eagles and also as a counselor for NFL players who are released from their teams. Being released from a team means  a player is cut from the roster, and this can be due to poor performances in games. The meeting took place in room F-25 during LB1 and LB2, under the supervision of club adviser, Mrs. Cooper. The Cherry Hill Public School district's superintendent, Dr. Meloche was in attendance. Students outside of the Fellowship of Christian Athletes were also welcome to attend the event.
In his discussion with the students, Cobb spoke heavily about the importance and impact of education and effort. He spoke about how life only got harder moving into his college football career, and he gave a lot of praise to his father. He explained how he first believed his father's constant pushing of education made him sound "corny" and "stupid", but Cobb later realized how important these values were. 
Cobb first realized he could become something or someone important after he witnessed his brother's little league baseball home run in person. He realized that if his brother could do something as great as a home run, he realized he could achieve something in his own life.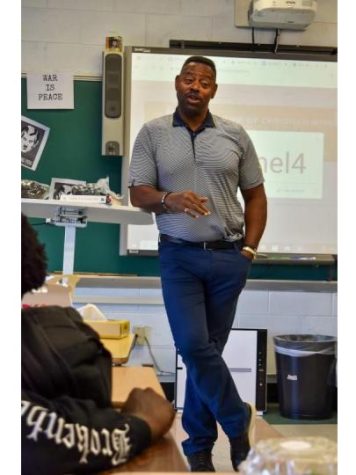 Picture from Nathaniel Camacho
Cobb connected his stories of success to quarterback Jalen Hurts. He explained how Hurts has been doubted almost all of his career, due to rumors of a poor throwing arm and doubt of his leadership of a team, but he is still in the locker room ready to play, and ready to win. 
Following his own personal stories, he explained his faith and how his personal connection to God made him a more successful person. "There is only one of you," Cobb stated. "God did not make any mistakes." He led the club in a brief prayer following his discussion.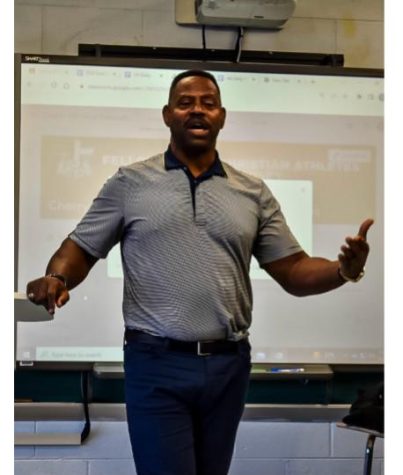 Picture from Nathaniel Camacho