How the Sports World is Challenging the NBA's One-And-Done Rule
Jalen Green was a high school basketball player from Fresno, California, who was playing at the highest level. He was a 5-star recruit, meaning many top college basketball programs were scouting to have him join their squad when he graduated from high school as a part of the Class of 2020. The University of Kentucky, Auburn, Memphis, Arizona, and Oregon–all schools with extremely successful college basketball programs, were offering Green a full-ride scholarship to play with them. Green's resume was already very impressive for an 18-year-old, having won three gold medals in various International Basketball Federation (FIBA) championships from 2017 to 2019. College basketball fans all over the country were excited for the upcoming year, with Green headlining as the ESPN #1 basketball recruit in the Class of 2020. However, he would shock the world when on April 16, 2020, after so much speculation, Green would sign with the NBA G-League Ignite team.
The NBA G-League Ignite is a team created as an alternative to college basketball and is a direct way to bring highly ranked high school prospects into NBA-level play against other G-League teams. The NBA G-League is a developmental league that showcases mostly young talent, who want to show off their skills against competition of their level to get onto an NBA roster. Ignite was formed as a team on April 16, 2020, and plays exhibition games outside of the G-League's schedule in order to develop the skills of young prospects. Being signed to the team, prospects can make up to $500,000 straight out of high school. Jalen Green became the first player to join the Ignite in their debut season. Other top recruits of the Class of 2020, such as Daishen Nix, Isaiah Todd, and Jonathon Kuminga would follow suit and join Green on the Ignite, instead of going to college. Many NBA fans praised this, as it seemed like the beginning of a movement by the NBA to bring an end to the controversial one-and-done rule.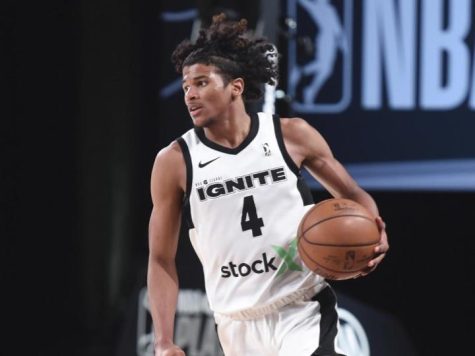 Pictured above: Jalen Green playing with the G-League Ignite team (photo from Sports Illustrated)
The one-and-done rule involves the yearly NBA draft. In the NBA draft, the top 60 college basketball players are chosen by different NBA teams, depending on when their selection is in the draft. Their draft selection placement is based on the win-loss record of the season preceding it. The one-and-done rule was put into effect for the 2006 NBA draft onwards and made it so young prospects had to be one year graduated from high school to enter into the draft. Along with this, players interested in joining the draft have to be turning 19 years old that year. Therefore, top-ranked high school prospects usually either played in college or played internationally for at least one year after high school. Before this rule change, from 1974 to 2005, there were 41 high school players drafted. Notable players out of this list include hall-of-famers Moses Malone, Kevin Garnett, Kobe Bryant, and Tracy McGrady, as well as LeBron James, who is in contention for being the greatest NBA player of all time. There has been a lot of disputes and discussion surrounding eligibility for the draft, and it has remained a controversial topic in the NBA community to this day.
A lot of highly-rated high school prospects have found a way around these rules, however. In 2015, Satnam Singh Bhamara was drafted into the NBA as a postgraduate high school student, who finished his 5th year playing for the school. Since he technically was a year removed from high school graduation, though, Bhamara was allowed to enter the draft. A few other players have followed suit with Bhamara's tactic, such as Thon Maker and Anfernee Simons. 
The G-League Ignite is a way for these highly-rated high school players to get a glimpse of NBA competition and get paid early. The Ignite path is still mostly unpopular among recruits, but for those who want to try to get into NBA competition early, it is a great opportunity.
Pictured: NBA superstar LeBron James in high school at St. Vincent-St. Mary High School (photo from Atlanta Journal-Constitution)
One of the many questions facing the NBA now is whether or not the one-and-done rule should be eliminated, and if the NBA should revert back to its old rules. A challenge with high school players entering the league is that these explosive young guys just may be too inexperienced to truly evaluate their skill and it may take a few extra years just to develop them into the player they could be. College basketball is another great way to develop players, as players have up to 4 years to both continue their education and play on a grand stage.
As stated before with Jalen Green's resume, FIBA allows younger ages to participate in various championship events. National teams like USA Basketball are allowing younger players to be involved in their systems. There are various high schools and academies out there offering spots for young high school players to develop their skills, like Montverde Academy and Oak Hill Academy. With all these elite academies and programs to develop these young stars, should unknown potential even be in the question? Why would the league doubt that these young players can play at the highest level if they are training at a high level in high school?
Every year, the number of college freshmen in the draft just becomes more and more overwhelming. In the most recent draft, the 2021 NBA draft, 18 draft picks out of the 60 were freshmen. 17 players from the 247 Composite top-25 rankings of the high school class of 2020 were selected in the draft, 3 of which were from the G-League Ignite squad. This goes to show that these young stars had the potential to go into the draft out of high school but needed to get their one year of college over with, just to be drafted into the league.
There are a lot of pros and cons to abolishing the one-and-done rule. A pro is that there are still a lot of considerable players who would go to college regardless of them being eligible to enter the draft out of high school. Only 18 of 60 picks were freshmen, meaning a lot of the drafted players spent more than a single year in college. This shows players still most likely will use this college level for development more than just another step in their journey to the NBA. A lot of players will still seek college as an opportunity to play on a higher level, a level that many, many NBA team scouts will still view closely to find their next young star. College would still be the most viable option for graduating high school players.
The one-and-done rule gives players the opportunity to be seen on a nationally-televised level with the national treasure that is the NCAA tournament. The NCAA tournament is a yearly competition between 64 of the best Division 1 college basketball teams to see who is truly the strongest college team of that year. This tournament gives these players a chance to shine, especially since the tournament is known for having a lot of surprises–in terms of players and in terms of lower-ranked schools beating the best of the best. The college environment and experience can be  beneficial for players and it could lead them to wanting to continue with their college years instead of going one-and-done.
There also are many cons with the one-and-done rule that are prominent to NBA fans. A major con is that if high school players are grabbing the attention of NBA scouts, then they must be good enough to compete at the NBA level. If anything, an injury or incident could happen that sidelines the player in his freshman year and makes his playing ability in college fall off, when the player was a 5-star recruit. In some cases, some 5-star recruits could have issues on the court with their colleges, leading them to drop from borderline top-10 pick out of high school to late first-round pick or early second-round pick (the second round is draft picks 31-60 in the annual draft). The one-and-done rule also makes players unable to be paid for their basketball skills, as the NCAA does not allow its players to have agents until they consider declaring entry for the draft. These players could go a year, their skill being shown to many sports fans around the country, yet they are unable to earn anything off their name.
Shaedon Sharpe is another name to keep note of in this entire one-and-done debacle. Sharpe was the ESPN #1 basketball recruit of the Class of 2022, and many believe he is already NBA-level talent out of high school. In a unique case, on November 9, 2021, Sharpe graduated from his Arizona high school after its first semester and was re-classified to the Class of 2021, joining the University of Kentucky Wildcats for the spring semester. Since he technically turns 19 on May 30 in 2022, the calendar year of the upcoming draft, Sharpe is eligible to enter the draft, despite not technically playing his senior year of high school. Amongst Sharpe's early enrollment, he has been placed in the top 10 of many mock drafts for the 2022 NBA Draft.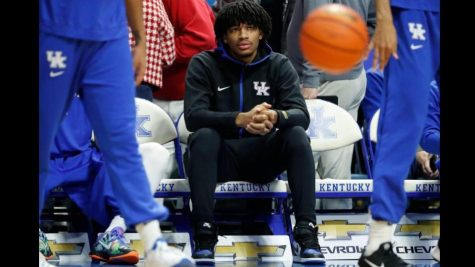 Pictured: Shaedon Sharpe (in the black Kentucky jacket) sitting on the bench (photo from Lexington Herald Leader)
On February 7, 2022, Kentucky coach John Calipari posted on Twitter that he "spoke to Shaedon and his parents" and that he "wants to end all speculation by again saying he will not play for us this season." Despite Sharpe being most likely to return for the 2022-23 season for the Wildcats, many mock drafts still list him high on their 2022 NBA Draft list. For a player who basically is just coming out of high school to most, it is remarkable how high he is placed among other players who are more "developed" in college. It just goes to show that NBA would most likely be willing to take a chance on these high school stars, and this is proven by the Shaedon Sharpe situation.
Although it will not happen this year as planned, NBA commissioner Adam Silver has stated before that he wants wants to abolish the one-and-done rule. In May 2019, Silver explained that the league needed to work closely with the players' association and USA Basketball to reach a decision on the future of the rule, expressing interest in dropping the minimum draft age from 19 years old to 18. Sourced from the Washington Post, Silver stated, "It's hard, I think, if you're that parent or guardian, to say to that player, it's more important that you go to three more classes as opposed to preparing for a really important decision. I think that's where the hypocrisy lies." 
Despite Silver attempting to move the minimum age down, nothing since then has added to the effort of eliminating the controversial rule. No one is too sure if the one-and-done rule will be abolished soon, but many sports fans are hoping that it will be tossed away. Many basketball fans believe the one-and-done rule does more harm to the future of the league than it helps it.