A Season in Review: West Boys' Soccer
West Boys' soccer had a very strong season this year. The team finished as the champions of the National Division in the Olympic conference, ranking above big teams such as big rivals Cherry Hill East as well as Camden Catholic. They also finished 5th overall in the Olympic Conference.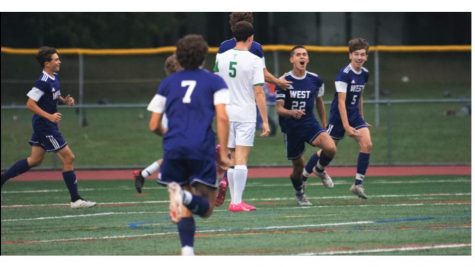 The Lions were led in Stats by senior Ethan Steinbiss, who finished the season with 
20 total goals and 16 total assists. He was also named the Olympic Conference Boys soccer Player of the Year as well as first team all conference.  They were followed by junior Peter Graffeo who had 12 goals and 6 assists. 
 Led by captains Ethan Steinbiss, Aiden McMillan, Jason Coburn, and Peter Graffeo, the boys made it through the playoffs all the way to play Summit at Kean University for the Group 3 State final. On their run, they beat Ocean City High School 2 to 0 in the first round, then beat Pinelands Regional 4 to 2 in the state quarterfinals to lead them to winning the South Jersey sectional title against Moorestown in penalty kicks. They then progressed to beat the Central Jersey Sectional title winners (Hopewell Valley) in a dominating 3 to 1 victory. Unfortunately, the boys fell to defeat in the end, losing 8 goals to 1 against North Jersey's Summit High school in the state championship game. 
Although Steinbiss is graduating this year, there are many players who will have the opportunity to step up next year. Sophomore Gabe Faust had 4 goals and 4 assists this season, scoring West's only goal off of a free kick in the playoff game against Moorestown. Freshman Joseph Conte will also play a big role next season. This year, he had 3 goals and 2 assists. Junior Michael Tepper will also build on his good performance this year.