1. Flooding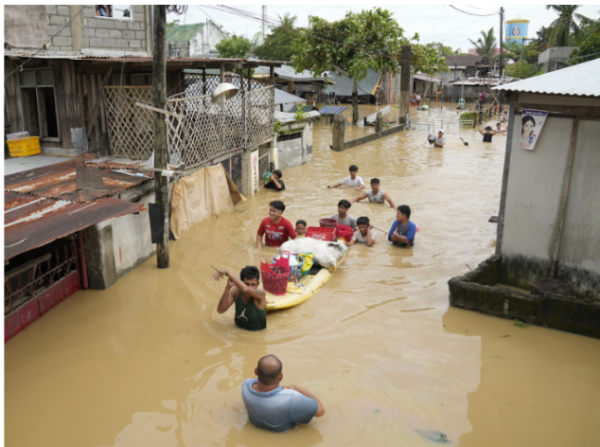 Photo courtesy of NPR
In December 2022, there were disastrous floods in the Philippines, resulting in at least 51 deaths as of January 2023, according to PBS NewsHour. The floods continued for several weeks due to harsh rains from a shear line – "the point where warm and cold air meet" (PBS NewsHour) – and caused 45,000 people to evacuate, according to Reuters.
What makes this event so notable is the fact that the winter months are generally a dry season in the Philippines, meaning there are already drastic changes to the weather (CNBC). This was just one example of fatal natural disasters in recent years due to climate change. 
2. Fires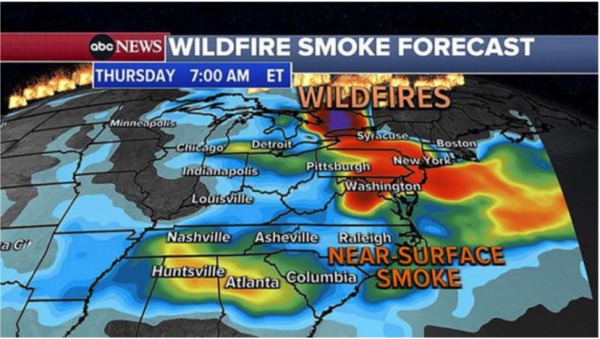 Photo courtesy of ABC News (KFOR Radio)
In August of this year, Maui, Hawaii experienced devastating wildfires that burned over 2,000 acres of land from the Lahaina area alone, with about 1,300 acres burned from the Olinda and Kula fires, CBS stated.  AP News reported the death toll as 97 people. While climate change may not have directly started the fire, it drastically intensified it. The Washington Post wrote, "Global warming means plants can more easily dry out, because warmer air hastens the evaporation of water. As the air sucks more moisture from the land, fire risks are increasing." However, this is not a rare issue. In Canada, the 2023 fire season was especially severe compared to previous years. Between May and October, over 45 million acres were burned according to the Washington Post, which is 9 times the national average. The smoke from these wildfires spread across the United States, far enough to cover New York City in thick smoke for days.
3. Global Warming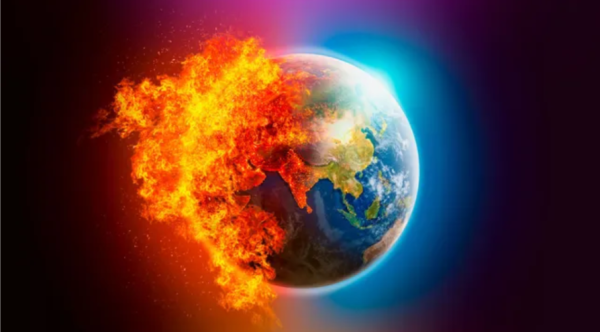 Photo courtesy of Live Science
The average global temperature has risen by 2 degrees Fahrenheit since the pre-industrial era. NOAA reports that the 10 warmest years on record have occurred since 2010, which proves the sentiment that Earth's temperatures are significantly increasing. To highlight this difference, NOAA stated that the last colder-than-average year on record was 1976. However, this crisis is expected to continue, as the World Meteorological Organization wrote, "There is a 98% likelihood that at least one of the next five years, and the five-year period as a whole, will be the warmest on record". If there is this much change in climate with a 2-degree temperature shift, imagine how disastrous it will be with even higher temperatures.
4. Melting Ice Caps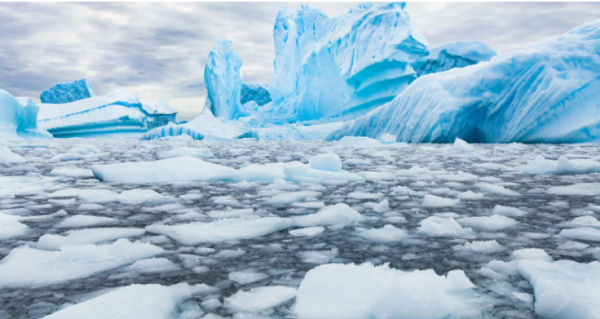 Photo courtesy of Harvard Gazette
For many years, the ice caps have been shrinking considerably. The warmer conditions have contributed to this, causing the ice – and in some cases, permafrost – to melt much quicker than it would naturally. Nature.com stated, "During the last 43 years the Arctic has been warming nearly four times faster than the globe, which is a higher ratio than generally reported in literature…The observations indicate that, during 1979–2021, a large fraction of the Arctic Ocean was warming faster than 0.75 ∘C decade…with a maximum warming in the Eurasian sector of the Arctic Ocean, near Svalbard and Novaya Zemlya…[where] the temperature trend over 1979–2021 locally exceeds 1.25 ∘C decade." This is incredibly concerning, as it implies that this issue is much worse than originally thought. At first, it was believed that the Arctic Ocean had been warming about thrice as fast as the rest of the globe, but this study proves the figure is lower than the unfortunate reality.
5. Viruses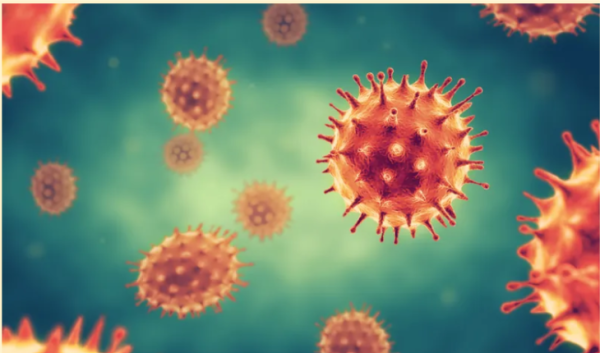 Photo courtesy of Audacy
According to CNN, scientists believe there is a real possibility that viruses that have been frozen for thousands of years will be reintroduced to the world. As the permafrost melts, we have the potential to be exposed to countless diseases we may be unprepared for. "'That amoeba-infecting viruses are still infectious after so long is indicative of a potentially bigger problem,' Claverie said… if the amoeba viruses are still alive, there is no reason why the other viruses will not be still alive, and capable of infecting their own hosts", CNN reported. This terrifying scenario has already taken place before, notably in Siberia's 2016 anthrax outbreak, a disease that hadn't infected anyone for decades. Nature.com stated, "A recent outbreak of anthrax disease, severely affecting reindeer herds in Siberia, has been reportedly associated to the presence of infected carcasses or spores released from the active layer over permafrost, which is thawing and thickening at increasing rates, thus underlying the re-emerging nature of this pathogen in the Arctic region because of warming temperatures." This event proves there's a likelihood more dormant diseases may return as the permafrost continues to melt.