Ellen's Stardust Diner: A Peek into the Famous Restaurant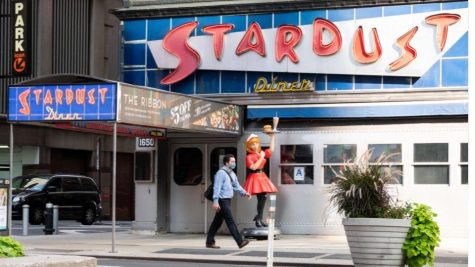 Photo courtesy of Google Images 
Ellen's Stardust Diner, a restaurant in the heart of New York City, is famously known for its singing waiters. While customers are eating, the waiters perform all types of songs for the entire restaurant. The songs are from television shows, movies, and Broadway. Some are even top hits from each decade. 
When I visited the restaurant they performed many things but their best performance was "Be Our Guest" from Beauty and the Beast. They danced on the tables and walked around the whole restaurant so that everyone could see them. Some of the waiters quickly changed into costumes and ran around tapping on tambourines. The customers were included in the performance by clapping their hands and doing little dance motions as instructed by the servers. 
On top of their amazing performances, the diner has some amazing food. The "Love me Tenders" dinner comes with chicken tenders, onion rings and waffle fries that are to die for. The chicken was nice and juicy. The fries were seasoned just right, with the perfect ratio of salt to potato and were well cooked (no one likes a soggy fry). The onion rings were hot and crunchy, unlike some places where the onion rings aren't well cooked. It was just the perfect serving amount and it had lots of flavor. I certainly would get it again.  
This restaurant is the perfect place to eat and be entertained. If you are ever in New York I would definitely recommend that you stop by Ellen's Stardust Diner.