How Homework Is Destroying Teens' Health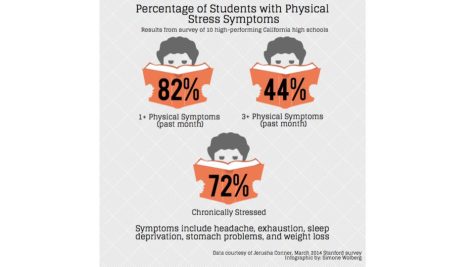 Source: Redwood Bark 
"[Students] average about 3.1 hours of homework each night," according to an article published by Stanford.  Teens across the country come home from school, exhausted from a long day, only to do more schoolwork.  They sit at their computers, working on homework assignments for hours on end.  To say the relentless amount of work they have to do is overwhelming would be an understatement.  The sheer amount of homework given has many negative impacts on teenagers.
Students have had homework for decades, but in more recent years it has become increasingly more demanding.  Multiple studies have shown that students average about three hours of homework per night.  The Atlantic mentioned that students now have twice as much homework as students did in the 1990s.  This is extremely detrimental to teens' mental health and levels of stress.  Students have a lot to do after school, such as spending time with family, extracurricular activities, taking care of siblings or other family members, hanging out with friends, or all of the above.  Having to juggle all of this as well as hours on end of homework is unreasonable because teenagers already have enough to think or worry about.   
According to a student- run survey conducted in Cherry Hill West, students reported that they received the most homework in math, history, and language arts classes.  They receive anywhere from 1 to 4 or more hours of homework every day, but only about 22.7% somewhat or strongly agree that it helps them learn.  Of the students who participated, 63.6% think schools should continue to give out homework sometimes, while 27.3% said they should not give out homework at all.  In an open-ended response section, students had a lot to say.  One student wrote, "I think we should get homework to practice work if we are seen struggling, or didn't finish work in class. But if we get homework, I think it just shows that the teacher needs more time to teach and instead of speeding up, gives us more work."  Another added,  "Homework is important to learn the material. However, too much may lead to the student not learning that much, or it may become stressful to do homework everyday."  Others wrote, "The work I get in chemistry doesn't help me learn at all if anything it confuses me more," and "I think math is the only class I could use homework as that helps me learn while world language is supposed to help me learn but feels more like a time waste."   A student admitted, "I think homework is beneficial for students but the amount of homework teachers give us each day is very overwhelming and puts a lot of stress on kids. I always have my work done but all of the homework I have really changes my emotions and it effects me."  Another pointed out, "you are at school for most of your day waking up before the sun and still after all of that they send you home each day with work you need to do before the next day. Does that really make sense[?]"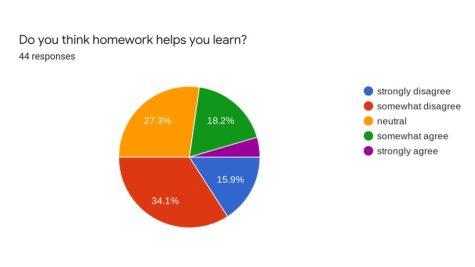 Students are under constant pressure to do well, which to schools means getting good grades.  This shows in the students' attempts to complete all of their homework when they can.  However, the amount of homework given has negative effects, one of which happens to be stress.  According to a study by Stanford, "students in high-achieving communities who spend too much time on homework experience more stress, physical health problems, a lack of balance and even alienation from society."  Teenagers shouldn't be under so much stress that they suffer physical and mental health problems, especially when some can be lasting or even lifelong.  
As an article from Healthline mentioned, "Researchers asked students whether they experienced physical symptoms of stress… More than 80 percent of students reported having at least one stress-related symptom in the past month, and 44 percent said they had experienced three or more symptoms."  If school is causing students physical symptoms of stress, it needs to re-evaluate whether or not homework is beneficial to students, especially teenagers.  Students aren't learning anything if they have hours of "busy work" every night, so much so that it gives them symptoms of stress, such as headaches, weight loss, sleep deprivation, and so on.  The continuous hours of work are doing nothing but harming students mentally and physically.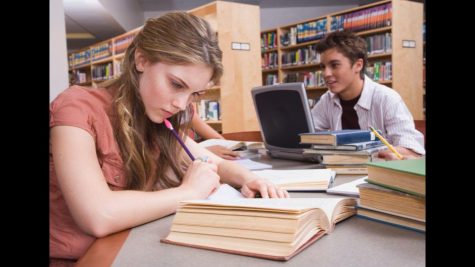 Source: how to (adult)
The mental effects of homework can be harmful as well.  Mental health issues are often ignored, even when schools can be the root of the problem.  An article from USA Today contained a quote from a licensed therapist and social worker named Cynthia Catchings, which reads, "heavy workloads can also cause serious mental health problems in the long run, like anxiety and depression."  Mental health problems are not beneficial in any way to education.  In fact, it makes it more difficult for students to focus and learn.  
Some studies have suggested that students should receive less homework.  To an extent, homework can help students in certain areas, such as math.  However, too much has detrimental impacts on their mental and physical health.  Emmy Kang, a mental health counselor, has a suggestion.  She mentioned, "I don't think (we) should scrap homework; I think we should scrap meaningless, purposeless busy work-type homework. That's something that needs to be scrapped entirely," she says, encouraging teachers to be thoughtful and consider the amount of time it would take for students to complete assignments," according to USA Today.  Students don't have much control over the homework they receive, but if enough people could explain to teachers the negative impacts it has on them, they might be convinced.  Teachers need to realize that their students have other classes and other assignments to do.  While this may not work for everything, it would at least be a start, which would be beneficial to students.
The sole purpose of schools is to educate children and young adults to help them later on in life.  However, school curriculums have gone too far if hours of homework for each class are seen as necessary and beneficial to learning.  Many studies have shown that homework has harmful effects on students, so how does it make sense to keep assigning it?  At this rate, the amount of time spent on homework will increase in years to come, along with the effects of poor mental and physical health.  Currently, students do an average of 3 hours of homework, according to the Washington Post, and the estimated amount of teenagers suffering from at least one mental illness is 1 in 5, as Polaris Teen Center stated.  This is already bad enough–it's worrisome to think it could get much worse.  Homework is not more important than physical or mental health, by any standards.