Image from Washington Post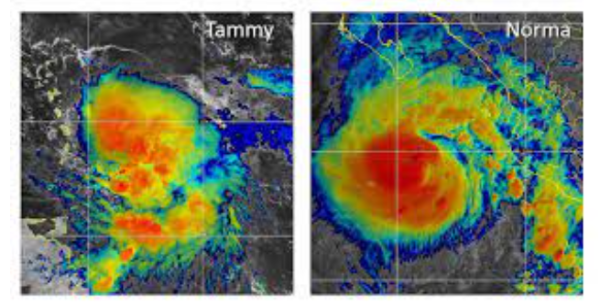 Image from Washington Post
The 2023 hurricane season continues to accumulate storm after storm. As of October, two twin tropical storms threaten to disrupt peace in the Eastern Pacific, posing significant threats to coastal regions in their respective paths. On October 21, Hurricane Norma came ashore near the resort of Los Cabos in Mexico. Hours later, Hurricane Tammy arrived on the Caribbean Island of Barbuda. Both storms have struck different ocean regions, bringing destruction and chaos. Weather forecasters are closely monitoring the progress of both storms and urging all residents near the respective hurricanes to take necessary precautions including taking shelter in a dry windowless area, avoiding going outside and driving during this time, and monitoring media outlets for current updates. 
As of current reports, Hurricane Norma arrived near the resort of Los Cabos in Mexico as a category 1 tropical storm Sunday, instead of the category 4 it was before. Hurricane Center reports "winds of 80 mph near el Pozo de Cota, west-northwest of Cabo San Lucas." Thousands of Los Cabos residents have been without electricity and authorities reported strong winds that took down trees and electronic poles resulting in loss of power. However, there are currently no injuries reported. To assist with storm preparations, the federal government dispatched 500 marines to Los Cabos. After the tropical storm had hit, streets were empty aside for the military patrols and were covered in leaves and other trash. It is expected to see Norma heading towards the northeast, passing the Gulf of California and heading for the state of Sinaloa on the Mexican mainland, where its gusts of wind and rain continued to bring devastation. 
Simultaneously, Hurricane Tammy came ashore in Barbuda as a category 1 storm Saturday night in the Atlantic, with "churning maximum sustained winds of 85 mph" (CNN). There was minor damage on the Island of Barbuda as Tammy made its way to the northwest. Although no permanent and physical damage was done to the island, there were strong winds, a lot of rain, and a storm that brought down power lines, causing an island-wide blackout. Meteorologists expect Hurricane Tammy to gradually strengthen over the next few days, as it makes its way to the Leeward Islands. In parts of the Leeward Islands including Barbados and Antigua, Tammy has caused many hurricane warnings in the Leeward Islands due to its strong gusts of wind and heavy rains. 
While both storms progress, continued preparation and awareness will be essential in protecting the lives of many. The National Hurricane Center and regional meteorological organizations will continue to update the public on the paths of Hurricanes Norma and Tammy.