Plane Crash in Nepal: 72 people on board, no survivors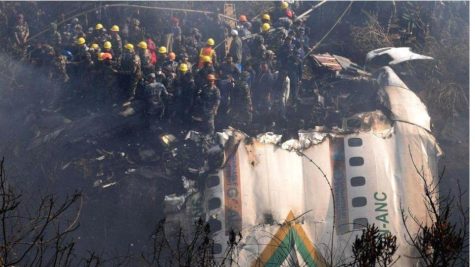 Photo via: BBC
On January 15, a plane carrying 72 people crashed near Pokhara, Nepal while trying to land at the Pokhara International Airport. This crash of Yeti Airlines Flight 69 was Nepal's deadliest airplane crash in 30 years, since 1992, when two crashes killed 113 and 167 people respectively. This is the third worst plane crash in Nepal's entire history.
The government is still investigating the exact cause of the crash, but they suspect a few different things. Nepal is known as one of the most dangerous places to fly. Due to its constantly severe weather, mountainous topography, and low visibility, many crashes have happened over the years. All of these factors make flying much more difficult to navigate for pilots, especially those flying small aircrafts and trying to land on remote runways surrounded by mountains. The country has been working to improve its aviation safety, though the environment's challenges still remain.  
Between the 68 passengers and 4 crew members, there are thought to be no survivors, though only 70 bodies have been recovered as of Tuesday. During the first round of searching for the bodies, only 68 bodies were recovered. Nepal Army's spokesperson, Krishna Prasad Bhandari, stated, "We have found one more dead body today, now there are two more people to be found." According to Yeti Airlines, 41 of the bodies found have been identified and the remains will be returned to their families. A search and rescue operation was put in place involving hundreds of first responders focused on finding the remaining passengers. 
Half of the plane's remains can be found on a hillside while the other half fell into the area surrounding the Seti river. Many residents in the area witnessed the crash, but the pilot made sure to steer clear of hitting any homes. Multiple Yeti Airline flights have been canceled in response to the crash, as rescue workers continue to investigate the wreckage.