Peer Leader Retreat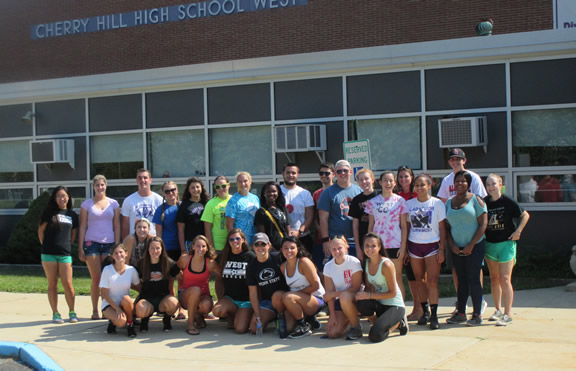 Hang on for a minute...we're trying to find some more stories you might like.
This August, the Cherry Hill West Peer Leaders went to Camp Ockanickon in Medford. As part of the new program to help the freshman class get integrated here at West, the leaders received two days of training from Outward Bound and Camp Ockanickon staff. On Friday, the seniors who were chosen to participate got initiated into the camp and met their bunk mates for the weekend. On Saturday, the staff from Outward Bound arrived and immediately put the students to work, creating excruciating physical and mental activities that would test the student's teamwork.
During the day, Dr. Morton dropped by to observe the activities, and seemed impressed with the sleep deprived seniors, who had given up a weekend of their summer to do a great service to their school. That night there was some canoeing and rowing on the lake, but not until after the 25 girls and 5 boys had spent extensive time on the mid-lake trampoline.
On the last morning of camp, rock climbing and archery dominated the day. Students were taught how to navigate the tricky, in air, obstacle courses, and learned the roles for each member of the climbing team. Everyone had to help to stay safe and happy. The climbers had spotters, as well as guides, to insure that no crash landings would take place.
The students learned how to positively encourage the freshmen, and how to entertain some of the tough questions that the freshmen may have throughout the year. With high school bringing a new schedule into the mix, there are obviously a lot of concerns that the freshmen may have. Part of the problem that exists when students enter high school is the misconception that freshmen are left on their own, and not given any guidance. While West has been providing teacher and guidance support for many years, the idea that students could help their peers seemed to please school administration. Who better to help students learn how to navigate the hallways and lunch lines than the people who have been doing it for three years?
The success of the program this year will depend on the strength of the bonds that the students can form with their peer leaders. Regardless, there is no doubt that the West community is getting stronger and more close-knit than ever before. With many area high schools still failing to introduce such a bold program, West looks poised and ahead of the game. The new school year is sure to be one filled with success and positive memories.