Life Lessons From the Class of 2022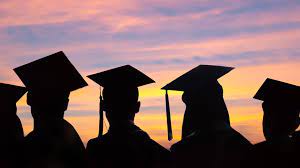 As the school year comes to an end, it is a good time for everyone, especially seniors, to reminisce on their times at Cherry Hill West. To celebrate graduation and the end of high school for these students, we decided to make a Google form to ask the seniors one crucial question; "What advice would you give to yourself in ninth grade based on what you have learned during your time at Cherry Hill West?" This question would not only help the seniors remember their times at West but the ninth graders and all future freshmen who come to West.
Through the Google form, we received a variety of great responses from West seniors who wanted to share their advice with their peers. A general consensus among seniors, such as Kien Ma, was that freshmen should find their passion and stick to it throughout their high school career. Seniors also offered academic advice. One senior wrote, "pay attention in class!" Another gave the advice to study hard for subjects like English–classes that matter in the long run. A particularly poignant piece of advice was from Jaxon Casdia, who would tell his freshmen self "don't take as many honors classes early on, wait until later years."
We received a lot of advice about making friends here at West as well. Emily Connor wrote that she'd tell freshmen, "to not be afraid to join clubs/athletics that interest you! Don't waste time getting involved because you will meet new people and learn more about yourself throughout the process!" While another senior wrote, "don't trust fake friends, get out when you can cause you'll find your true friends when you do." All of this advice is perfect for any incoming freshman anxious about developing the "perfect" high school social life. 
The last piece of advice we'd like to highlight is from a senior who asked to stay anonymous: "Enjoy high school. Time flies by quickly and all the tears you cried were not worth it. You'll get through this and I'm proud of you." 
Throughout the Google form, we gathered a lot of information on the general mindset and attitude of seniors, good advice for the new students, as well as a great reflection of times at West from the Class of 2022. It was a great experience, and we hope freshmen follow this generous advice! Happy graduation seniors!