Ask the Professionals: Senator Barbara Buono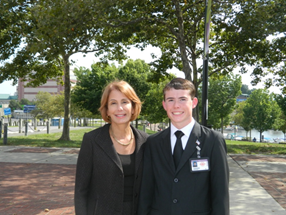 Hang on for a minute...we're trying to find some more stories you might like.
Recently, I had the opportunity to interview Democratic nominee for New Jersey Governor Barbara Buono. Since she is extremely busy campaigning, we had an interesting phone interview. Senator Buono has lived in New Jersey her whole life and she attended public school in Nutley, NJ.    Senator Buono said her family never had a lot, but they had everything they needed. They were the lower end on the economic scale with her dad being a butcher and her mom an office worker and a substitute teacher. They had a very small apartment in Nutley where her parents slept on a fold down couch in the living room so that her sister and she could have a bedroom. She added that was not one of the obstacles. The obstacle was her father's death in the early 1980's. He died when she was just 19 and she had to grow up very fast. Her adolescence abruptly ended and she had to sink or swim she decided she would swim. She decided to stay at Montclair State and find jobs to help support her family, as well as pay her way through college.
College was more affordable back then and there were jobs to pay off the loans when she graduated. That is not the case anymore.  She said tuition weighs down everyone's salaries by a long shot. This is not acceptable. She said we need more education, more training, and more preparation for the new economy. The S.T.E.M (science, technology, and math) program, for example, is a program students can enroll in in many New Jersey schools. She said higher paying jobs are coming. She visited Cunningwell in Washington D.C. and talked with them about how there would be three hundred thousand new jobs created in New Jersey and high skill jobs that would require that kind of education and background training in S.T.E.M.  She explained that if we don't change our curriculum and we make higher education more affordable, then those jobs will not come to New Jersey.  We will lose more jobs because we won't have the skilled workforce that big industries need to fill those positions.
Senator Buono said that if it weren't for student loans, she may not have been able to go to college.  The only way she went to Rutgers Camden Law School was through a national descent student loan. She did not have to begin paying this off until she was out of law school for a year.  She then started paying it off four years after law school and it gave her four years to get a job and get her back on her feet. Her first job paid very little.  She was a judicial law clerk for a Superior Court judge.  At that time, the judiciary was only three percent. Then she had a second loan through a savings bank because you really can't work your first year because curriculum is so rigorous. That is why she needed that account. It was another low interest loan that again she didn't have to begin to pay off until she graduated. That was the difference between those low interest loans that they delayed after she got out of law school and was the deciding factor whether she went to law school or not.
I told Senator Buono that I heard the interest rates were going to go up by ten percent. She said she knew about this and feels it is just beyond belief. She said it has to stop and we have to figure out a way to make college more affordable in New Jersey.  Other states have a dedicated line item of funding for higher education; New Jersey does not.  From being on a budget committee for many years, she learned that when it comes time to strike a budget, it seems as though higher education is the first area that people cut.  She said we have to change that mind set and that higher education needs to be a priority. Our budget has to reflect that priority. She said it is not only important because it is the right thing to do, it is important because our children, deserve a better education.  They need to be able to live up to their potential and in the overall economy. She said students do not have the skills needed for the jobs in demand, the jobs we want to attract to New Jersey. They are not going to be coming to New Jersey.
When Senator Buono was a college student she focused on political science and economics.   She was never interested in being in politics. She said she had studied politics.  Ever since she was in eighth grade she wanted to be a public interest lawyer.  She was concerned about the district franchise. Even though she was interested in politics, she grew up in the Vietnam War era and the Watergate era and both generations were very politicized and a very engaged.  She was a lawyer and then was asked to run for Metuchen, a little town of 12,000 people, borough council.  This was back in 1991 and she had no political aspiration except to make her town a better place to live for her children through schools and safety issues. She then started volunteering and was asked to serve on the Cultural Arts Commission and that's where she really became involved in the town in a way in which she had not been before. She said in many ways it was a turning point because that is when she became more knowledgeable about the town and the schools.  That is when somebody asked her to run for council and she had to think about it. I told her that I read in her biography that she was State Senator in 2001-2012.  I wanted to know what she accomplished while in office. Senator Buono said she had three great accomplishments. The first was that she was a sponsor of the schools funding reform act. The entire time while she was in the legislature she saw that the funding formula was just not fair and equitable for all of New Jersey and she was the sponsor of that legislation that finally began to distribute available state aid in a more fair and predictable way.  For example, if you were an at risk student, you would get the resources you needed and the education you deserved.  Then, at the same time, by getting more state funding added to our school districts, it began to reign in property taxes.
In New Jersey, our public schools are funded by property taxes and what the state doesn't fund, property tax payers are left to pick up. She said that was a major accomplishment of educational opportunity and also the mechanism to start raining in property taxes. Her second accomplishment was her involvement with the Anti-Bullying Act. Back in 2002, it really became a national movement.  It was in the wake of the Columbine disaster that occurred in 1999.   So she and her staff felt it was very important. This was a cause that hit close to home for Senator Buono.  She said our kids should be able to go to school unafraid and not distracted.  Students should not be worrying about what is going to happen after school. They tightened it up in 2011; they realized that some schools were not abiding by the bullying guidelines and some schools were. So they tightened it up and put some requirements and strict guidelines, criteria, and funding so that schools were more aware of the Anti-Bullying policy by the end of the year.                              Her third accomplishment was the paid Family Leave.  She said up until her Legislation, the United States was one of the few countries in the industrialized world that did not have paid family leave.  In other words, if you were a mom or dad and had a sick child or an elderly parent to care for (which is happening more and more these days), you had no options for work.  In the past, you would lose days from work and pay.  There was no policy in place to take a leave from your place of business and be able to have a job when you returned.  This legislation made it possible for people not to have to choose between caring for their loved ones or having a job.  It provides six weeks on limited pay and is paid through a temporary disability fund which employees pay.  This is one of the most important things we have to do to be able to care for our family members.
It is my hope that this article gives you a good idea Senator Buono's background and views.  At a follow-up meeting at the Camden Waterfront,  I was offered a special parking pass, and I was able to speak to her manager, assistants, and even a few Freeholders.  As soon as Senator Buono arrived, she was extremely nice and took photos with me.  I would like to thank Senator Buono for sparing her very valuable campaign time for this interview and I wish her the best of luck in this election.

About the Writer
Justin Gick '16, Editor-in-Chief
Justin Gick (senior) is the Editor-in-Chief of the Lion's Roar. He started as a freshman staff writer and was given his own column called "Ask the...