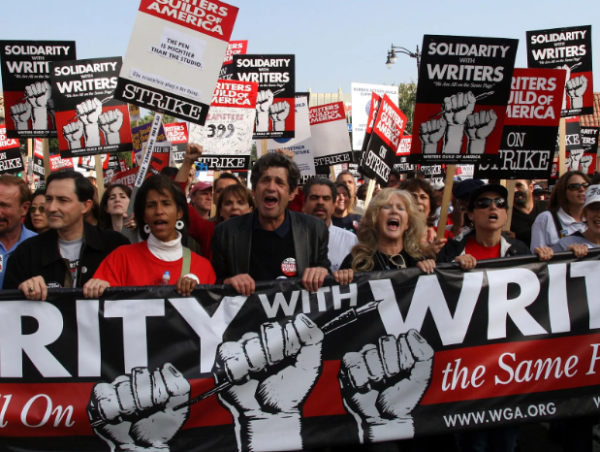 Source: Wireimage/Getty via Vanity Fair
After 148 days, the WGA (Writers Guild of America West) strike came to a close on September 27, 2023. The strike began on May 2, 2023, in which the screenwriters from the WGA put down their pens and pencils or took their hands off keyboards and went to the picket lines to support better accommodations for their work. The WGA, which is the labor union that represents writers in all forms of digital media (film, television, radio/podcast, and video games), ended the strike in a much better position than it started in, with a deal that was almost perfect for the group.
The terms of this deal, which will last for the next three years, according to AP News,     "includes significant wins in the main areas writers had fought for – compensation, length of employment, size of staffs and control of artificial intelligence – matching or nearly equaling what they had sought at the outset of the strike" One new footnote from the strike is the use of artificial intelligence, which many in the job had worried would take over their job as it could create its own scripts, much as the actors strike is concerned with how their likeness could be used without their consent due to the use of artificial intelligence.
Many of these complaints came during the strike, in which multiple studios had to cease production on projects due to no script progression, which put most people in the industry out of work. This also comes up in terms of payment, as one of the main reasons for the strike was cut content. According to Variety, companies like "Disney, Warner Bros. Discovery, Paramount Global and others began to impose steep cost cuts and layoffs. That meant swift cancellations of series, slashed production and marketing budgets, and the removal of vintage series from streaming platforms." This has caused members of the cast and crew of this content to lose revenue from it, which saves the companies money, but makes it so the people involved in its creation receive no royalties. This was mostly rectified by changes made in the new contract, which now guarantees jobs for up to 10 weeks in production, and payment for making some of the bigger shows on platforms.
While the writers have had their problems solved, the actors remain on the picket line. With their strike now passing the 100-day mark, things are not going as well for them: negotiations, according to The New York Times, "fell apart on Oct. 11. The studios balked at a new proposal that would involve a viewership bonus that they said would cost them close to $800 million." This proposal was a subscriber tax of 57 cents per subscriber per year, and it is also what broke the proposed deal between corporations and the actors union SAG-AFTRA. They will be continuing negotiations on October 24, 2023, in the hope that this will be the answer and Hollywood will be able to come back into full swing. Most films in production during the strike have been delayed, have ceased production, or have been canceled altogether, some notable examples including Dune: Part Two, Deadpool 3, Mission Impossible: Dead Reckoning: Part Two, and Gladiator 2.