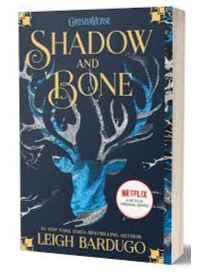 Are you in the mood to delve into a deep fantasy world filled with emotion and adventure? Or have you just finished a book series and are looking for another to start?  Author Leigh Bardugo has you covered.
The Grishaverse, which consists of the Shadow and Bone trilogy, the Six of Crows duology, and King of Scars duology, is filled with lovable (as well as loathsome) characters and stories that will leave you reading for more.  Leigh Bardugo's writing appeals to any audience, especially those that love a deep fantasy.  Lots of people often confuse the order in which you're supposed to read the Grishaverse books.  So here's the correct order to get you started:
Shadow and Bone

Trilogy
Six of Crows

Duology (the crowd favorite)
King of Scars

duology
It does look like a lot, but once you become fully immersed in the world of Ravka, you automatically feel as though you are a part of Alina's story.  Here's a brief breakdown of the three groups of stories.
Shadow and Bone
This trilogy is mainly set in Ravka, which is inspired by modern-day Russia.  The three books follow young Alina Starkov, who is your average seventeen-year-old cartographer who dreams of a normal life.  An accident in the Fold, which is a dark area filled with dark shadows and unknown creatures (also known as the Unsea), results in Alina discovering something about herself she could've never imagined being true.  Her close friend since childhood, Mal, sticks by her side as she continues to find out what this discovery could mean for her.  
Six of Crows
Known as one of the most beloved fantasy duologies by readers, Six of Crows and Crooked Kingdom revolve around six teenagers ranging between the ages of sixteen to eighteen.  These cunning teenagers would do anything, I repeat anything, for kruge (the currency used in Kerch), which includes going on a heist and taking risks they never could've imagined.   The duology mainly takes place in Ketterdam, loosely inspired by Amsterdam, and happens two years after the events of the Shadow and Bone trilogy.  
A main factor of the high praise and love the duology receives is the characters.  Led by Kaz Brekker, a ruthless seventeen-year-old who loves a heist, the Crows all have backstories that allow readers to feel deeply connected to them.   While the Crows are cutting peoples' eyes out, stabbing others with canes, or putting an abrupt stop to the heartbeats of their enemies, readers can't help but notice the growing bond the six of them have with one another.  
Now we're back in Ravka.  It revolves around beloved characters from the Shadow and Bone trilogy and the measures they're willing to take to protect their home.  I'm not going to specifically say who's in it (because that would be a slight spoiler, yikes) but it is action-packed and filled with dark stories surrounding the most lovable characters.  I vividly remember audibly gasping at the plot twists; they were that good.  
All that being said, the Grishaverse is the perfect fantasy for everyone (readers and non-readers) who just wants a world to become a part of.  So head to your local bookstore or library and check it out!  The way in which Leigh Bardugo writes her stories will have you hooked from start to finish (with a few tears in between).