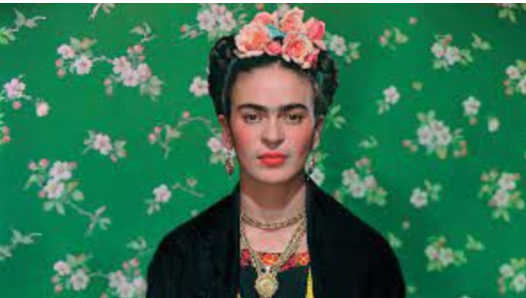 October is a month dedicated to recognizing the LGBTQ+, Hispanic heritage, and mental illness communities. It is fitting to talk about a certain artist who checks all of these boxes.  This artist's name is Frida Kahlo (1907-1954), whose name is quite recognizable today. Kahlo grew up in Mexico with her Spanish-American mother and German father. Kahlo had three other sisters, claiming that she grew up in a world surrounded by females. Although this is true, she was especially close to her father who was a professional photographer. She enjoyed assisting him in his studio, possibly being the first spark of artistic creativity for her.  At the young age of 6, Kahlo suffered from polio, which kept her bedridden for nine months.  This illness left her with a limp for the rest of her life and a right leg noticeably skinnier than her left, so she covered them with long skirts.  Even from a young age, she had been very resilient and continued to show this throughout the rest of her life.
     Frida Kahlo started her painting career after a tragic bus accident in 1925. She was riding the bus home with a friend when it hit a trolley car and left her impaled through her midsection by a metal rod. The devastating accident left Kahlo bedridden with a full body cast in the hospital for a long time, as she had severely damaged her spine, pelvis, collarbone, leg, and uterus.  She felt like everything had been ripped from her and could barely even move in her full body cast.  On top of all of this, she had very few visitors, leaving her bored and lonely in the four walls of her hospital room.  The physiological and physical pain she endured after the accident is unimaginable.   
     Although this was not an ideal situation for her at all, one good thing did come out of it: her newfound love of painting. Kahlo turned to painting after the boredom of her hospital room became too unbearable. Her parents placed a mirror above her bed and gave her a lap easel to paint on. Day after day, she would paint her face, as it was the only model she had. As Khalo started to slowly reach recovery, she realized becoming an artist was the path she wanted to take with her life. She stopped her study of medicine and reconnected with a friend from school, Diego Rivera. Rivera was a muralist and soon became her husband, sharing a love and passion for art with her.
     Over the next few years, Khalo continued painting and improving her craft.  She and Diego moved all over America for her husband's work.  The two had a very rocky relationship as Rivera had many affairs with other women, even her sister. Khalo felt so betrayed by him she cut her long hair off to prove it. Speaking of her short hair, Frida is known for embracing masculinity while preserving her femininity. She was not afraid to push the boundaries and explore outside of the norm. One of her most obvious attributes seen in all of her self-portraits is her unshaved unibrow and her mustache. This is mainly because her father had brought her up in an unorthodox manner compared to that of Mexico at the time. He encouraged her to play sports dominated by boys, giving her the confidence to not shy away from masculinity, but rather to embrace it. There is even a family portrait with Khalo wearing one of her father's suits with her hair slicked back. This just goes to show her stubbornness and how it ended up helping her succeed in life.
     Despite the fact that she liked to defy stereotypes, Khalo still yearned to be a mother.  Unfortunately, she was unable to because of the bus accident years prior that completely damaged her pelvis and uterus. Her painting, Henry Ford Hospital depicts her desire to have the privilege of giving birth. She is shown lying naked on a hospital bed, crying and surrounded by blood with objects floating around her body. These objects were a fetus, a flower, a pelvis, and a snail, all connected by veins leading back to her. These objects represent the fact that she knew she would not be able to have a baby but still dreamt of having one. She also painted a spine and a metal rod, referencing the bus accident and describing to viewers that she has dealt with immense pain in her life. Khalo never let these things stop her, though, simply using painting as an outlet to express her feelings towards the hardships she faced. She continued to very vividly depict the realities she faced in her lifetime through most of her paintings during the rest of her career.  
     A very common theme throughout Kahlo's paintings is the theme of life experience, and dealing with the jarring reality of the world. Some of her paintings can be gruesome and graphic because they reveal her true emotions and outlook on the world. She always had a very truthful aspect to her art, never trying to sugarcoat it. Take the Henry Ford Hospital painting for example. The image of her naked on a bed doused in blood may seem too obscene for some, but I personally think she was revolutionary. She opened up a whole new world of art for people and gained recognition for a community that was most often brushed off. Looking at her paintings, they may seem very odd and hard to understand, but you have to look beyond that and see her true meaning.  Each painting she made includes a story or a message she was trying to spread, whether it be uplifting or sorrowful.