West for Women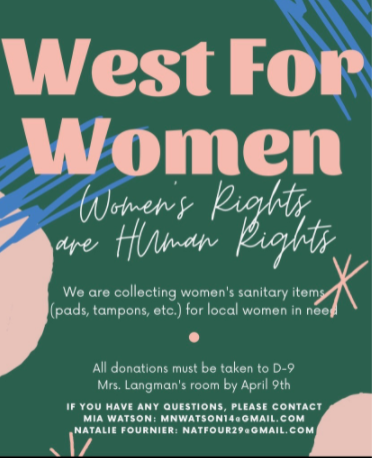 Students in Mrs. Langman's Contemporary Issues in Literature elective were challenged to think outside of the box and take action on issues facing their communities after reading Interment, a novel written by Samira Ahmed with a powerful female protagonist that creates positive change in the most difficult of situations. We decided to encompass the passion for human rights that the protagonist Layla clearly displayed and were able to find and develop our passion for helping local women in need. We created West For Women and were determined to collect sanitary items to distribute to those who need them the most. 
Imagine being a woman and not having the supplies that you need to get by? The amount of women who lack access to sanitary products and feminine items is truly devastating. We made it our mission to provide as many local women as possible with the resources and supplies needed. Distributing Dignity, a Cherry Hill nonprofit organization run by Joanie Baldrestone, shared our ambitious desire to turn our goal into a reality. This nonprofit's objective is to "distribute new bras, pads, and tampons, enhancing the dignity of women in need." The supplies collected are distributed to women aging out of foster care, seeking refuge from domestic violence or abuse, homeless veterans and teens, those displaced by disaster, and women struggling with severe mental illnesses.
We started out by making a flyer to get the word out about our mission, where to drop off items, and how to contact us. We decorated bins and placed them in Mrs. Langman's room and at the front office for the people who do not attend in-person school. Also, we got the entire Cherry Hill community involved through Facebook and some of our largest donations were made by people outside of the West community. We were even able to create relationships with younger girls and inform them on the importance of giving back to others and abandoning the stereotype of silencing women's issues. Our collection ended on April 9th and from the three weeks that the donation lasted we were able to collect 4,005 items total. This number exceeded our expectations of the impact that we thought our minuscule school project would make on the entire community.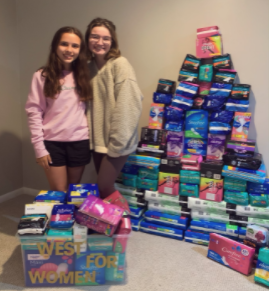 Overall, the West for Women sanitary collection was a major success and was very eye-opening for both of us. Seeing the community come together to show support towards the West for Women and the women in need in the community, was truly inspiring. During these unprecedented times, our project created a sense of unity and a hope for change. Knowing that our small idea to create positive change for women who need the most support was exhilarating. Seeing it come to life was truly remarkable. In our West for Women collection, we were able to help hundreds of local women. We hope that we can make this an annual event, so that the West for Women team can continue to make differences in the lives of women in need.