Spirit Week Recap: Powder Puff
On November 22nd, West held its annual Powder Puff Game, with the Freshmen and Seniors competing against the Sophomores and Juniors. Powder Puff has been an extremely popular extracurricular throughout Spirit Week within the West community for a few years now, bringing numerous participants as well as spectators.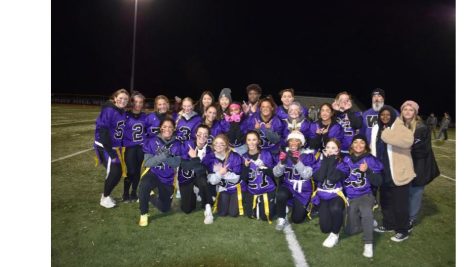 Photo Courtesy of Nate Camacho         
The first half was very eventful for the Freshman/Senior team. During the first quarter, quarterback Madeline Solomons (#50) started off strong for the team. She threw a perfect pass to Bri Rodgers (#21) for a 35-yard touchdown, ending with their team up in the first quarter 7-0. Despite her dominating performance, Solomons explained that the most difficult part for her was, "being able to react quickly under pressure," even though it was hard to tell while she was on the field.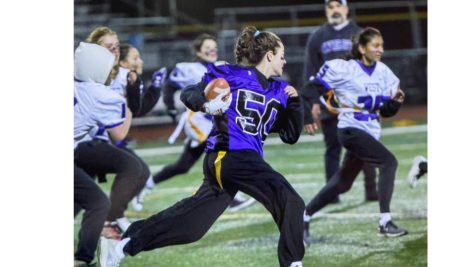 Photo Courtesy of Nate Camacho
The second quarter only got better for the Freshman/Senior team. Kyla Rivera (#8) stepped up big time for the team with two 15-yard carries to set her teammate, Ny Gomez (#83), up for a touchdown. The dominating performance from her team didn't seem to surprise Rivera. She stated, "I expected my team to play well and that's how it turned out. I'm very proud of us for pulling through and winning."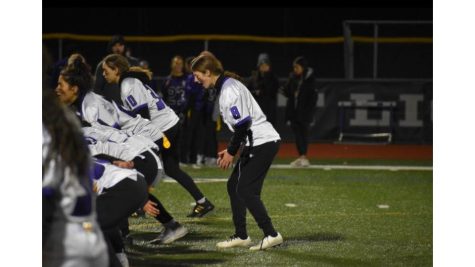 Photo Courtesy of Nate Camacho
Throughout the third quarter, one significant play occurred between the two rivals. Under quick pressure, Mia Gerace (#8) threw a crisp pass to Becca Armstrong 35 yards down for a touchdown. 
Similar to the first half, the fourth quarter was filled with numerous successful plays among both teams. Ny Gomez ran 15 yards for a first down followed by a 35-yard touchdown to put the Freshmen/Senior team up 21-7. Yet, the Sophomore/Junior team did not give up and continued to strive for touchdowns with only a short amount of time left. Most notably, Quarterback Mia Gerace had a 15-yard carry to get her team only 25 yards away from the end zone, but the Sophomore/Junior team could not pull out a touchdown. It's safe to say that the Freshman/Senior defense was on top of their game. 
Although her team did not come out on top, Kyrstal Patel stated, "My favorite part would be the people, the atmosphere, the team, practices, and the game day was really fun." The community gathered around a spirited group of girls for a very competitive night of Football. From this, Powder Puff can be seen as an extremely positive experience for the players. In the words of Josalyn Perez, "It was great. Bird was a good coach, he cared more about us having fun than winning."