New police cars hit the streets of Cherry Hill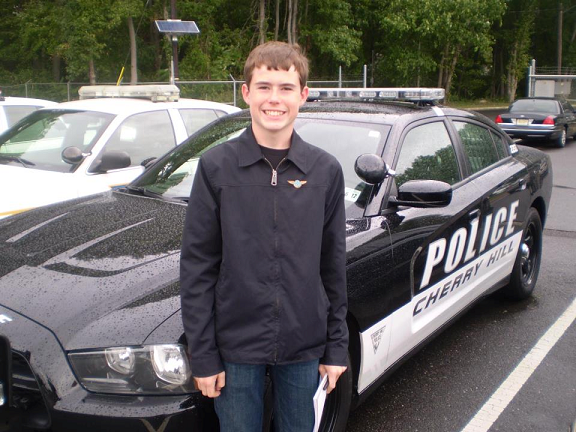 Hang on for a minute...we're trying to find some more stories you might like.
This past September I had the opportunity to interview Police Officer Bill Ackerman of the Cherry Hill Police Department about the new 2012 Dodge Charger police cars.
Car Model
JG: What year and model is the car? OA: 2012 Dodge Charger JG: How fast does it go? What engine does it have and how many horse power? Officer Ackerman jokingly said "it goes the speed limit" The engine is a Hemi and it can go from 0-60 mph in 5.6 seconds. JG: what other cars were you considering? OA: the Chevy Caprice police package and the Ford Taurus police package.
Car Features
JG: does it have special features that the Crown Victoria didn't have? OA: a clear plastic barrier divides the vehicle into a single molded plastic seat in the back rear passenger side meant for prisoner transport. The seating area includes a drain for cleaning purposes. One of the cameras in the car is focused on the charger's prisoner compartment. An officer can observe a person in custody in two ways from the in car computers monitor and by looking over their shoulder. JG: why is it black rather than the blue and white we're all use to? OA: "We just wanted a different look, something more contemporary, also more of a classic look". JG: How many cars do you have now? OA: 14 new cars. JG: are there undercover police cars too? Yes. JG: what gas mileage does it get? OA: "It's not great it gets 19 mpg city and 31 mpg highway".
The last question I asked officer Ackerman was did you trade in all of the old models or did you keep some? OA: "We lease vehicles as older models fade out". I thanked officer Ackerman for letting me interview him and he let me sit in one of the new cars and I was amazed by all the technology this car had in it. While I was sitting in it I found something amusing in the brand new car, it already had an air freshener in it.

About the Writer
Justin Gick '16, Editor-in-Chief
Justin Gick (senior) is the Editor-in-Chief of the Lion's Roar. He started as a freshman staff writer and was given his own column called "Ask the...