New Club At West Encourages Support for Athletes' Mental Health!: Morgan's Message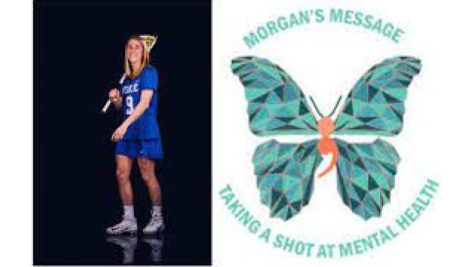 Morgan Rodgers (left) & Morgan's Message logo
Photo via morgansmessage.org
A new club at West, called Morgan's Message, has started at West. Morgan's Message is a non-profit organization that ultimately manifests change, works to eliminate mental health stigma, and saves lives. Through this club, students spread student-athlete mental health awareness to all. Morgan's Message will help to normalize the conversations surrounding mental health. The club also gives those who suffer in silence and feel alone a support system and a safe space. 
Morgan's Message was started in the loving memory of Morgan Rodgers by her close family and friends. Morgan was an exceptionally talented athlete who played Division 1 lacrosse for Duke University. She was a gifted artist as well, displaying some of her best work in her sketchbook. Overall, she was extremely passionate, driven, and loyal. Before Morgan's sophomore lacrosse season at Duke, she endured a knee injury. Morgan was determined to return back to the field and worked hard through rehab. With the abrupt change, Morgan suffered. She felt isolated from her teammates and the stress due to her injury led to the return of anxiety and depression. Morgan put on a strong and passionate face to her peers but suffered in silence alone. As a result, Morgan died by suicide on July 11, 2019, at the age of 22. 
Through Morgan's Message, Morgan's legacy and love will live on. As Morgan's Message states, "Morgan's Message is clear: as an athlete, there is no shame in seeking physical healthcare — the same should be true for mental healthcare. In order to close the gap, we must eliminate the stigma surrounding mental health together.".
Morgan's Message held its first meeting on Friday, January 13th. The meeting was extremely successful. Morgan's Message's first meeting opened with an introduction and insight to who Morgan Rodgers is and what Morgan's message is all about. Many student athletes showed up, wanting to make a change. The future of Morgan's Message is very bright!