West Softball 2021
It's been an abnormal year for everyone, especially for spring sports.  Due to Covid-19, many sports such as softball didn't get a season last year.  Now, the players and coaches are back on the field at long last.
I recently interviewed Coach Franzosi, the Head softball coach and guidance counselor at Cherry Hill High School West.  There are currently two softball teams, Varsity and Junior Varsity.  Varsity has thirteen players, while JV has seventeen.  The coaches this year are Coach Franzosi, Coach Dwyer, and Coach Besser.  So far, Varsity has played four games and has won three of them.  JV has played three and won one of them so far.
The coaches plan on having about twenty games in the regular season, and five games of playoffs for Varsity.  Franzosi mentioned that the teams are as competitive as expected, and are hitting really well this season. She even stated, " This is the strongest offensive line-up I've had since coaching here at West."
There are also some precautions the teams have had to take due to Covid. For example, all players and coaches have to wear masks when they are not spread out on the field. Coach Franzosi has mentioned that having to talk strategy with the team while six feet apart takes some getting used to. If the entire team is spread out six feet apart, she might have to talk louder, which could cause the other team to hear her. Also, players on both JV and Varsity have to fill out a Google form before every practice and game with any symptoms they have. If they have any symptoms at all, the player can't come back unless they have a doctor's note proving they don't have Covid.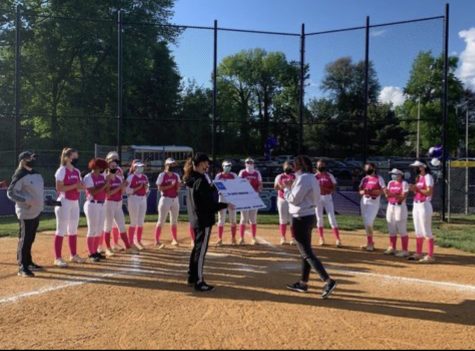 Franzosi mentioned that Varsity has had many plays and attitudes she's proud of so far this season. For example, freshman Talia Dugan's grand slam in a game against Winslow, Cam Kitchin "with her effortless-looking splits on first," Jess Bianco's seven stolen bases in only four games, and Bella Sylvester's jokes on the mound. JV has had some great plays as well, such as Alyssa Coburn's grand slam and some excellent catches in center field.
There are many games coming up for the West Softball teams, such as the Strike Out Cancer game vs Camden Catholic on May 12th at 3:45 pm at Cherry Hill West.  Snacks and t-shirts were sold, and all proceeds went to a foundation for Cancer documenting.