CHPD Chief Kempf Honored at Cherry Hill West
Former West Alum, Chief Robert Kempf, returned to his roots recently to have conversations with West students to share stories of his life at West to now. Students in JROTC, the Student Government Organization (SGO), and the Principal's Advisory Committee joined many Cherry Hill faculty including, Superintendent Dr. Meloche and West Principal Dr. Damon to honor their new Chief.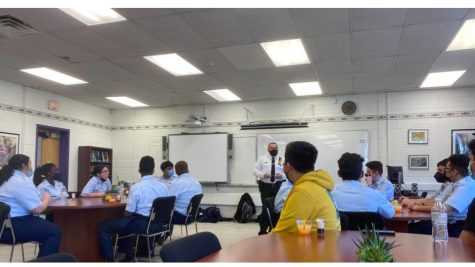 Chief Kempf spoke to the students about how he became involved in the police force after graduating from Cherry Hill West in 1990. Kempf started at Camden County College to earn his associate's degree and transferred to Rutgers to get involved in their business studies. He then moved on to Rutgers School of Law to earn his law degree and an MBA. Kempf also thoroughly expressed to current West students how much of a believer he is in academics and credits his time at Cherry Hill West for preparing him for his future. 
Additionally, Kempf told students about his time spent in the SWAT team for many years. He then joined the police department in 1998 and became a detective in cybercrime in 2011. 
Kempf was appointed chief in January and tells students that once he was offered the position he was "honored and thrilled" to accept the job. Kempf is looking forward to supporting and connecting with the younger generations of the Cherry Hill community to create relationships with the police force.